Features
25 May 2018
Howman raises questions over Russian Beijing 2008 race walking golds
David Howman, former Director General of the World Anti-Doping Agency (WADA), has cast doubt on race walking Gold medals won by Valeriy Borchin and Olga Kaniskina at the Beijing 2008 Olympics. Howman said that a train transporting pre-Games samples taken by the International Association of Athletics Federations (IAAF) to the Beijing Laboratory was intercepted inside Russia, and the samples were tipped away. Howman's claim is corroborated by the affidavit Dr. Grigory Rodchenkov provided to the International Olympic Committee's (IOC) Schmid Commission, in which he testifies that the intercepted samples related to four race walkers, including Borchin and Kaniskina.
"A train was intercepted by the FSB [Federal Security Service] inside Russia", Howman told The Sports Integrity Initiative in an interview at this year's Sport Resolutions conference. "The train was transporting samples that had been collected inside Russia, by the IAAF, from Russia to Beijing, so that the Laboratory at the Games could do the analysis. This is pre-Games. I wasn't on the train, but what I heard was that Russian law enforcement people, which I assume to be the FSB, were the ones that boarded the train, asked to see the samples, and said that they weren't allowed to transport human bodily samples outside of Russia. The samples were tipped away."
In footnote 20 of his affidavit (PDF below) Dr. Rodchenkov, former Director of the Moscow Laboratory, clarifies that the incident Howman refers to took place in August, ahead of the Beijing 2008 Olympics. 'Dr. Gabriel Dollé, sent someone from IDTM (a private company used for sample collection) to collect urine samples from four race walkers, including Olga Kaniskina and Valery Borchin, who went on to win gold medals in Beijing', he writes. 'Viktor Chegin learned that the IDTM employee collected the samples and asked the FSB to intercept them. A Customs Officer, acting at the direction of the FSB, succeeded.'
Howman says that the issue was taken up with the Russian authorities, who argued that they had laws that prevented the movement of bodily samples overseas. "We went through a lot of discussions about this", he said. "Arne Ljungqvist [former Chairman of WADA's Health, Medical and Research Committee] was heavily involved and thought it was outrageous, and argued that they had to change the law. I can't remember how long it took before they changed it, but they did."
It took a long time. In June 2016, a WADA Report found that all Russian samples going outside of the country had to be re-routed via Moscow.
Kaniskina & Borchin
In January 2015, the Russian Anti-Doping Agency (RUSADA) sanctioned Olga Kaniskina with a three year and two month ban, and sanctioned Valeriy Borchin with an eight year ban for a second offence. Borchin had previously received a one year ban in 2005 after testing positive for the stimulant ephedrine when he was 18.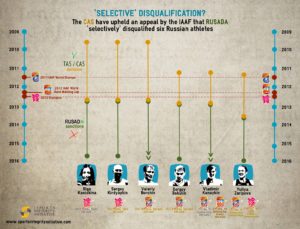 In March 2016, the Court of Arbitration for Sport (CAS) upheld an appeal by the IAAF, which successfully argued that there had been a 'selective' annulment of results (see right). This initially allowed Kaniskina to keep the Silver medal she won in the London 2012 20km race walk, and Borchin to keep the 20km race walk title he won at the Daegu 2011 IAAF World Championships. The CAS decision backdated the annulment of both athlete's results back to August 2009, as their sanctions related to Athlete Biological Passport (ABP) readings from then.
Viktor Chegin was Russia's race walking coach at the time, and trained both athletes. In August 2008, Chegin admitted that Borchin had tested positive for erythropoietin (EPO) in April 2008, a positive test that was reportedly recognised by the Russian Athletics Federation (RusAF). Yet Borchin was allowed to compete in Beijing and win Gold.
The coach Russia found difficult to ban
On 4 May this year, the IAAF revoked the Authorised Neutral Athlete (ANA) status granted to five race walkers, after RUSADA found that Viktor Chegin was working with the Russian team ahead of this year's IAAF World Race Walking Team Championships in Taicang, China. Chegin was sanctioned with a lifetime ban by RusAF in March 2016. 
Over 20 athletes trained by Chegin between 2005 and 2015 are understood to have been disqualified for doping. He was provisionally suspended by RUSADA on 25 August 2014, yet it did not launch an official investigation until 15 July 2015. RusAF did not remove him as Russia's race walking coach until 16 July 2015.
This year is not the first time that he has been spotted coaching athletes, in violation of his ban. He was spotted at the European Athletics Championships in Zurich in August 2014, whilst provisionally suspended by RUSADA. 
Several of Chegin's suspended athletes – including Sergey Baulkin, Elena Lashmanova and Ekaterina Medvedeva – were spotted (here and here) competing at the Mordovian race walking championships in December 2014. RusAF attempted to claim that the photos were from a 2012 event, however detective work by Canadian race walker Evan Dunfee uncovered that the shoes and uniforms worn in the photos were not available in 2012.
Chegin was also filmed training Russian athletes on 27 April 2016 in the town of Adler, just 10km from Sochi. Kaniskina, Sergey Kirdyapkin and Elena Lashmanova, who all signed an extraordinary letter of support for Chegin earlier that month, were pictured at the training session. 
Annoyed
It is not hard to see why athletes are annoyed about the continued involvement of Chegin in race walking, which they argue has deprived them of medals and prize money. South African race walker Jared Tallent is reportedly considering an appeal to the CAS for prize money that he argues is owed to him due to the disqualification of other race walkers coached by Chegin. Tallent took bronze in the Beijing 2008 20km race walk, which was won by Borchin. 
At the World Conference on Doping in Sport in Poland, November 2019, stakeholders in anti-doping will approve the 2021 World Anti-Doping Code, and it is planned that athlete compensation will play a part. "There is a clause that says we have to do more about the money component, such as prize money", says Howman. "I've seen the draft". So, perhaps in the future, athletes who have lost prize money in cases of proven anti-doping rule violations (ADRVs) will see that money returned. 
Athlete entourage
Russia's difficulty in sanctioning Chegin was due to just how ingrained he had become in race walking within the country. Until 2016, Chegin gave his name to the Olympic Preparation Centre of the Republic of Mordovia. Today, although the centre has changed its name to the Sports School of Olympic Reserve in Mordovia (СШОР – its Saransk postal address is the same), its internet site heavily references his success. 
'The story of the creation, progress and achievements of СШОР is definitely worth viewing through the prism of the V.M. Chegin Olympic Training Centre for Race Walking', reads the site. 'The athletes of the former Centre are now the backbone of СШОР achievements and they brought – and continue to bring – valuable rewards to Russia and Mordovia'. The site then lists the achievements of some of the race walkers he has coached, including Kaniskina and Borchin. Interestingly, it still lists several of his walkers as Olympic or World Champions, with a note that they have been 'deprived' at a later date.
Yet despite Chegin falling under the jurisdiction of RusAF, it appears to have found it difficult to ban him. When members of an athlete's entourage who do not fall under sport's jurisdiction are involved in an ADRV, it is almost impossible for sport to sanction them, explains Howman.
"There is some power in the Code to look at the entourage and there's the prohibited association clause, but that has no teeth", he says. "So I think this [Code] review has to deal with it. Sport does not have these people as members and they are not under sport's jurisdiction. So unless they are involved in a sporting body, they are outside of the system, so there's no sanctions available. Michele Ferrari [Italian doctor sanctioned with a lifetime ban by the US Anti-Doping Agency] is a good example of this.
"So then you have to turn to the governments and ask what they can do in relation to this area. We've had a few examples of that already with rouge doctors who've done things that they shouldn't have. One was dealt with here in the UK [Click here for the Medical Practitioners Tribunal Service ruling on Dr. Mark Bonar]. There have also been a couple in the States where they've tried to get them struck off, and the local medical councils have refused. So unless you get buy in, the entourage really do operate in a world where they are not subject to sanctions.
"I have no difficulty in saying that they should be sanctioned, but the only people who really have teeth in this area are the governments. People don't want to criminalise doping when it comes to athletes. The Italians have never charged an athlete, but they've got to some of the other guys as a result of their law."
The idea that the criminalisation of doping is not intended to prosecute athletes, but those that encourage them to use prohibited substances has also taken root in Germany, where doping was criminalised in 2015. Delegates at last year's Play The Game conference heard that Germany's National Anti-Doping Agency (NADA Deutschland) has benefitted from the extra investigatory powers legislation has granted it. 
"There must be some proof for public prosecutors from any country to start an investigation", said Lars Mortseifer, CEO of NADA Deutschland. "In 2015, we had the first case where we went to a criminal investigation. In most previous cases, the criminal prosecutor said to me, OK, it's good that we have information that there's an anti-doping rule violation based on a positive test, but it's not enough for me to investigate. 
"Now, they must investigate. They can quit the case if they want, but starting from the beginning, they must investigate. That's a huge step forward. So as a NADO, you can go to the highest person in that entity and ask why they haven't investigated? This is why I have asked my colleagues to implement this in other countries as well."
New approach
Howman argues that there needs to be part of a new approach to anti-doping, as there is a danger that stakeholders could consider that testing is not worth the money. "They ought to be thinking of ways in which you can show the public that collecting urine and blood is still worthwhile", he argues. "If you're only getting 2%…2% is what they were getting in 1988.
"Instead of just continuing with the same system and saying all is well, somebody should be asking whether it should be reviewed. The price of sample analysis is not going down, there are fewer positive cases, we are not testing in an area which I would regard as being prone to abuse, which is the levels below elite sport.
"If there's been no change, why? If you look at the 2016 figures, there are 1,329 cases that were sanctioned, out of 230,000 samples taken. That's 0.54%. Somebody would be fired if that was the return you were getting on your money in private or public enterprise."
The testing system costs a huge amount of money. In 2015, UK Anti-Doping (UKAD) Chairman David Kenworthy told the BBC that a standard urine test costs £371 and an Athlete Biological Passport (ABP) test costs £439. WADA's 2016 ADRV Report reveals that 229,514 samples were collected by Anti-Doping Organisations (ADOs), excluding samples collected in North America. 
Testing in the UK is likely to be more expensive than in other countries, but even at £300 a test, conducting 229,154 tests worldwide would cost over £75 million. Just 1,326 ADRVs were recorded – 0.58% of samples collected. This means that each ADRV could cost over £57,000. Perhaps it is time to consider cheaper alternatives, such as dried blood spot testing.
Investigations also cost money. The two Independent Commission reports and the two Independent Person reports commissioned by WADA are estimated to have cost upwards of US$2.5 million. That is without considering the cost of appealing, and defending, doping cases at the CAS. Yet in its 2016 Annual Report, WADA states that its budget was US$28.3 million, $8 million less than footballer Neymar's $36.2 million annual wage.
A shift in focus
As the intercepted samples of Kaniskina and Borchin ahead of the Beijing 2008 Olympics illustrates, in cases of serious organised doping, athletes are rarely the ones pulling the strings. Dr. Rodchenkov outlines that Viktor Chegin gave the order to the FSB for the train to be intercepted and the samples tipped away.
The testing system is important as a deterrent, but only if there is a genuine fear of getting caught. Howman says that "the rules are such that they're getting easier to circumvent when they are applied, particularly when it comes to science". In 2012, he told The Guardian: "It is very easy to catch the dopey doper. The sophisticated doper is becoming harder to detect and that's a big challenge for the anti-doping movement." 
It remains a challenge. What appears to have been identified in Russia is a sophisticated system designed to bypass the world's anti-doping system. Athletes generally come into sport at a young, impressionable age, determined to win. Yes, they shouldn't take prohibited substances, but when their mentors – who are venerated by the State – explain such a system to them, should the young athlete shoulder the entire blame for opting in?
Howman would like to see more money invested by sport in anti-doping, through the form of a 0.5% levy on TV and sponsorship revenue. "Sport has so much money and it hasn't worked out how it will deal with its issues", he explains. "This would be one that wouldn't hurt them because nobody would suffer, except that they would lose control and power, which are the aphrodisiacs of the sporting world".
However there is considerable debate as to whether more money, without a shift in focus, would facilitate any change. And WADA has previously shown that it is not prepared to seriously consider alternatives to systems that it has invested time and money in developing, even if such systems are arguably cheaper and more effective. 
As such, although a shift in focus is needed, it could be a long time coming. Until it happens, the potential will remain for those in positions of power – like Chegin – to game the system, safe in the knowledge that athletes will take the fall for their actions.