21st October 2016
Meldonium madness, Russia, Sharapova & Rio 2016
In March, the world's attention was drawn to a medication little-known outside of eastern Europe, when tennis superstar Maria Sharapova tested positive for meldonium. Few people had heard of the substance, which is manufactured in Latvia under the brand name 'mildronate' for use almost exclusively in eastern Europe – specifically in Russia, where it is available over the counter.
Because of this, its inclusion on the World Anti-Doping Agency's (WADA) 2016 Prohibited List has polarised opinion. Supporters of its ban argue that using scientific evidence, it can be argued that meldonium is performance-enhancing and is being abused in sport. Equally, it can be argued that such scientific evidence is flawed, and meldonium protects against heart attacks.
Due to uncertainty over the excretion times for meldonium, anti-doping organisations (ADOs) have faced confusion over how to sanction athletes who tested positive for meldonium in 2016, despite having stopped taking the drug before the 2016 Prohibited List came into effect. In an extreme case, this has led to a US athlete being allowed to take part in the Rio 2016 Olympics, whilst his Russian team mate was excluded, despite them both testing positive as a result of being given meldonium by their team doctor prior to 2016.
Grindeks, the manufacturer of mildronate, has argued that as the substance is not performance-enhancing, it should never have been put onto the Prohibited List in the first place, as its use is designed to protect the heart when pushed to capacity. It is understood that some doctors prescribed meldonium to athletes to protect the heart from the effects of strenuous exercise. As the collapse of footballer Fabrice Muamba and others illustrates, it could be argued that such protection is a legitimate medical aim.
"In October, I began intense training and to maintain the heart, I began to take Mildronate", said Andrey Minzhulin, who was cleared of having committed an anti-doping rule violation (ADRV) on 19 April, in an interview with RSport. "It was, of course, not plucked out of the air; the drug has been known for a long time and has repeatedly been prescribed and recommended by sports doctors".
Addition to the List
As Director General Olivier Niggli has previously explained on The Sports Integrity Initiative, WADA does not have to prove that a substance is performance-enhancing to place a substance on the Prohibited List. According to Article 4.3.1 of the 2015 World Anti-Doping Code, a substance must meet two of three criteria to be included on the List:
• Medical or other scientific evidence, pharmacological effect or experience that the substance or method, alone or in combination with other substances or methods, has the potential to enhance or enhances sport performance;
• Medical or other scientific evidence, pharmacological effect or experience that the use of the substance or method represents an actual or potential health risk to the athlete;
• WADA's determination that the use of the substance or method violates the spirit of sport described in the introduction to the Code.
Meldonium was added to WADA's Monitoring Programme in September 2014, and was added to the 2016 Prohibited List a year later. It was added following research commissioned by the Partnership for Clean Competition (PCC), which found a 'growing body of evidence (black market products and athlete statements) concerning its misuse in sport'. The PCC-commissioned research does support the idea that meldonium is performance-enhancing, which would clear the first hurdle of WADA's three categories for inclusion on the Prohibited List.
'Mildronate, an approved drug with multiple indications besides its anti-ischemic properties, is known to have a positive effect on the endurance performance of athletes, improves rehabilitation after exercise, protect against stress and activates CNS functions', reads the results of the research commissioned by the PCC. 'Furthermore, the present study indicates the wide prevalence of Mildronate in international elite sports and demonstrates the alarming extent of administered dosages, finding more than 180 cases of Mildronate use within numerous different sport disciplines and urinary concentration levels of more than 1 mg/mL. Additionally, the easy access to Mildronate from numerous online shops certainly plays an important role for the widespread use in international elite sports. Under medical and pharmacological aspects as well as to preserve the integrity of sport the ban of Mildronate from sport is deemed indicated.'
This appears to be unequivocal evidence that meldonium has a performance-enhancing effect. 'Reports on positive effects on the physical working capacity of elite athletes were published and dosages of Mildronate (per os between 0.25 and 1.0 g twice a day over 2–3 weeks during the training period and 10–14 days before competition) were discussed', reads the research. 'Further studies demonstrated an increase in endurance performance of athletes, improved rehabilitation after exercise, protection against stress, and enhanced activations of central nervous system (CNS) functions. Moreover, Mildronate shows mood-improving effects as well as an increased learning and memory performance, which are properties athletes may also benefit from.'
However, this conclusion appears to be based on two other recycled pieces of research – the first, involving Russian judoka, does not appear to be available online. The second appears to be a one-page study conducted as part of a Lithuanian sports science conference in 2012 which references the first study. Critics argue that this does not constitute a sufficient scientific basis for adding meldonium to the Prohibited List.
Dr. Ford Vox, a specialist in rehabilitation medicine, analysed the research that WADA used to place meldonium onto the Prohibited List on the basis that it has a performance-enhancing effect in a medical report published on 28 September, and detailed in the document below. He argues that the Russian judoka study is flawed because the seven judoka taking mildronate in the study were on average seven years older and 23kg heavier than the group not taking mildronate. He notes that it is 'gravely concerning' that WADA has relied on such research to place meldonium onto the Prohibited List.
WADA also appeared to reconsider whether the main brand of meldonium, mildronate, should feature on the Prohibited List. Grindeks, its Latvian manufacturer, met with WADA on 9 September about the possibility of removing mildronate from the List. However, meldonium remains on the 2017 Prohibited List, which was published by WADA on 29 September.
The inclusion of meldonium on the Prohibited List suggests that WADA is satisfied that the PCC-commissioned research confirms a performance-enhancing effect. It doesn't delve into the the second WADA hurdle – whether a substance presents a health risk to athletes. In fact, the PCC-commissioned research appears to support Grindeks's claim that meldonium has genuine medicinal properties. 'Several studies and clinical trials identified Mildronate as an effective anti-ischemic drug with multiple indications besides its cardioprotective properties, including the treatment of neurodegenerative disorders, bronchopulmonary diseases and application as an immunomodulator', it reads.
The PCC commissioned its research into meldonium shortly before signing a partnership with WADA at the end of April 2015. As this statement announcing the partnership reveals, the PCC is 'an innovative research collaborative founded in 2008 as a 501(c)(3) non-profit public charity by the United States Olympic Committee, United States Anti-Doping Agency, Major League Baseball and the National Football League'.
"The PCC, which we sit on, authorised our research which led to meldonium being a substance banned by WADA", explains Dan Halem, Chief Legal Officer at Major League Baseball (MLB). It did this through its Micro-Grant Programme, which funded the research led by Dr. Mario Thevis into the use of meldonium in sport, which led to its inclusion on the 2016 Prohibited List.
Thesis's research specifically mentions mildronate as his subject of study, whereas the brand name is not included on either the 2016 or 2017 version of WADA's Prohibited List. Meldonium is not approved for use in the US by the Food and Drug Administration (FDA) or by the European Medicines Agency (EMA), which lists medicines approved for use in the EU. So the chances of US or EU athletes testing positive for it are small. Also, whilst additions to the Monitoring Programme and Prohibited List were published in English, they do not appear to have been published in Russian on the WADA website. In fact on the WADA website, resources in Russian appear limited.
Meldonium (мельдоний) is included on Russia's Vital and Essential Drugs List, 2012, as supplied to the World Health Organisation (WHO), which is designed to increase its accessibility to the general population for health maintenance purposes. It is registered for public use in Latvia, Russia, Ukraine, Georgia, Kazakhstan, Azerbaijan, Belarus, Uzbekistan, Moldova, and Kyrgyzstan. In Russia alone, between 30 and 40 million mildronate capsules are taken each year, with sales of over 2.3 billion Russian rubles (€33.3 million) in 2008. Given that meldonium is largely used in eastern Europe and is largely known through the local names for the Grindeks brand mildronate (Russian = Милдронат), it is perhaps no surprise that so many eastern European athletes were caught out by its inclusion on the 2016 Prohibited List.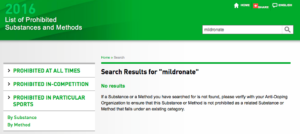 Finding 'mildronate' on the Prohibited List is impossible even in English – a search for the brand name turns up zero results. Only athletes searching for the active chemical ingredient in English, meldonium, would have been presented with a result by WADA's own search system, which is not available in Russian.
In the CAS ruling (published in full below), Sharapova and her agent, Max Eisenbud, repeatedly assert that they thought mildronate was the chemical name of the product Sharapova was taking. WADA's Science Director, Dr. Olivier Rabin told the Court of Arbitration for Sport (CAS) that the mildronate brand name had been included on a Summary of Major Modifications to the Prohibited List published on 16 September 2015 'in light of its prevalence of use and because it was thought that this information was useful'. However, this document was not issued to athletes, and was only available via a media release announcing WADA's publication of the 2016 Prohibited List.
However, despite WADA's apparent lack of action, the Russian Anti-Doping Agency (RUSADA) did realise that a potential issue could develop from meldonium's inclusion on the list. On 30 September 2015, it issued a specific warning in both Russian and English, both of which mention the upcoming prohibition of meldonium (мельдоний) and mildronate (Милдронат). However RUSADA was suspended by WADA in November 2015 for non-compliance with the World Anti-Doping Code.
If Russia smells a conspiracy, then WADA has questions to answer on:
• why it accepted, apparently without question, research that appears to have been commissioned by US sport;
• whether it considered that banning meldonium could create the perception that this was a targeted move to prevent athletes from eastern Europe competing at the Rio 2016 Olympics;
• whether it independently verified the PCC-commissioned research;
• why it failed to include the drug's brand name (mildronate) on the Prohibited List, despite the research it relied upon to ban that drug using that brand name.
• why it failed to include the drug's brand name (mildronate) on the Prohibited List, despite WADA's Scientific Director concluding in 2015 that inclusion of the brand name was 'useful' to athletes.
• why it failed to provide local language updates about a ban on a drug used in a specific area (Eastern Europe).
Problems on introduction of 2016 Prohibited List
WADA's own research indicated that there would be a problem before the 2016 List came into effect, as 3,625 athletes tested positive for meldonium in 2015. However, the number of adverse analytical findings (AAFs) appeared to surprise the Agency itself. The exact number of meldonium positives is not known. In April, WADA said that there had been 172 meldonium positives since the 2016 Prohibited List was introduced on 1 January.
This prompted two clarifications on how anti-doping organisations (ADOs) should process meldonium cases. The first, issued on 13 April, clarified that cases should only proceed where it could be shown that meldonium was taken after 1 January; were concentrations are above 15 μg/mL; or where the concentration is between 1 μg/mL and 15 μg/mL and the doping control was undertaken on or after 1 March 2016.
The second, issued on 30 June, issued updated guidance regarding the concentration of meldonium in athlete samples depending on the date when the sample was collected. It confirmed that from 1 March (and up until 30 September) 2016, cases with a low concentration of meldonium found in an athlete's sample (less than 1 μg /mL) are compatible with a no fault finding.
However, interestingly, it also advised that athletes who reported concentrations of meldonium under 5 μg /mL in tests taken between 1 January and 29 February should be considered not at fault for their ADRV. 'In the absence of other evidence of use on or after 1 January 2016, a finding of no fault may be made', reads the Guidance. 'In the absence of other evidence of use after 29 September 2015, no disqualification of results'.
This appears to shift the date of WADA's prohibition on taking meldonium to before it became prohibited on 1 January 2016. It also appears that neither clarification was issued in Russian.
Innocent athletes miss Rio
Unfortunately, the proximity of WADA's guidance on meldonium to the Rio 2016 Olympics has meant that some athletes who appear to have stopped taking the drug before it was banned have missed out on the Games. In other cases, athletes who have been found to bear no fault for ingestion of meldonium have been prevented from taking part in the Olympics.
Swedish runner Abeba Aregawi missed the Rio games despite being cleared of doping. She was acquitted in July, after testing positive for meldonium and being sanctioned in March. 'In this case it cannot be proved that Abeba Aregawi ingested the prohibited substance after 1 January 2016', read a statement from the Swedish sports confederation (RF). 'Therefore the sanction and interim suspension are repealed immediately'. In other words, the RF ruled that Aregawi had not taken meldonium after it became prohibited.
However, the Swedish athletics association (SF) decided not to select her for Rio 2016, despite her exoneration. She had initially been nominated for Rio after she finished in the top eight during the 2015 Beijing International Association of Athletics Federations (IAAF) World Championships. 'Aregawi's participation in the Swedish national team will be considered only after the uncertainty about her sporting and medical status has been established', read an SF statement. 'Abeba Aregawi will not be nominated by the Swedish Olympic Committee for participation at the Olympic Games in Rio de Janeiro […] The Swedish Athletics Association notes that the doping case is now dismissed by the Anti-Doping Commission. While we are critical of the fact that Abeba Aregawi recognised as late as December 2015 she had taken a substance that only a few weeks later, from 1 January 2016, was classified as doping, her own information that she had been unaware of this intake we see as reprehensible, as it is the responsibility of each athlete to take full responsibility for the medical substances that they use.'
Ruth Kasirye is a Norwegian weightlifter who was suspended after testing positive for meldonium on 25 January. Kasirye, who was born in Uganda, provided evidence that she had unknowingly received meldonium as part of medical treatment for malaria whilst visiting Uganda in early January.
On 11 August, the Norwegian Sports Adjudication Committee repealed Anti-Doping Norway's (ADN) suspension of Kasirye. 'ADN's prosecuting committee failed to put the matter before ADN's Medical Academic Committee before adopting the suspension', read a statement from Kasirye's lawyers. 'It [the suspension] is contrary to ADN's and WADA's regulations, and the suspension was therefore invalid'.
As a result of the suspension, Kasirye missed Norway's hosting of the European Weightlifting Championships in Førde, which would have paved the way to qualification for the Rio Olympics. Kasirye represented Norway at the Beijing 2008 Olympics, where she was flag bearer at the opening ceremony.
The Russian double whammy
When the athletes reporting AAFs for meldonium were Russian, ADOs were hit with a double whammy. Not only did they have to deal with two sets of WADA guidance on how to deal with meldonium positives, they were pitched a curveball by the IOC on 24 July, just 12 days before the Olympics. 'The ROC [Russian Olympic Committee] is not allowed to enter any athlete for the Olympic Games Rio 2016 who has ever been sanctioned for doping, even if he or she has served the sanction', read point three of its conditions for the entry of Russian athletes to the Rio Olympics.
As could perhaps be expected, this caused chaos. Due to WADA's changing guidance on how to deal with meldonium positives, many federations were still uncertain on how to proceed with meldonium cases at this point. When the athletes in question were Russian, the IOC conditions for Russian Rio 2016 entry naturally led to caution.
This once again led to more apparently innocent athletes being excluded from the Rio Olympics. Alexander Markin was excluded from the Russian volleyball team at a very late stage. Google's cache of the Russian team on the Rio 2016 official site includes him as a team member, however the actual page does not.
Markin's exclusion was due to a ruling of the Fédération Internationale de Volleyball (FIVB), which ruled that although he bore no fault or negligence for a meldonium positive, he had committed an anti-doping rule violation (ADRV), so he could therefore not be included in Russia's volleyball team. Apparently, Markin thought he had been cleared for Rio by an April ruling.
'In its decision, the FIVB Disciplinary Panel followed the guidance of the World Anti-Doping Agency (WADA), which issued a Notice on April 13, 2016 regarding how to handle meldonium cases', read an FIVB statement. 'In its Notice, WADA recommended that an anti-doping rule violation must be found in cases in which meldonium was present in an athlete's sample after January 1, 2016 but a decision-making body could make a finding that the athlete bore no fault or negligence if the concentration of meldonium found in the athlete's sample was below 1 microgram per millilitre (μg/mL) and the test was taken before March 1, 2016. According to WADA, if these two criteria were satisfied, the athlete's intake would be "compatible with an intake prior to January, 2016", i.e. before meldonium became a prohibited substance. A finding of no fault or negligence allows a decision-making body to eliminate a sanction against the athlete.'
'In Mr. Markin's case, the concentration of meldonium in Mr. Markin's sample was 0.3 micrograms and the test occurred on January 9, 2016', continued the statement. 'Therefore, the two criteria provided by WADA were satisfied. The FIVB Disciplinary Panel concluded that Mr. Markin committed an anti-doping rule violation but bore no fault or negligence in this case. The FIVB Disciplinary Panel therefore lifted his provisional suspension and decided that he would be subject to no additional sanctions taking the approach recommended by WADA.'
In effect, the FIVB found that Markin's AAF was compatible with taking meldonium before it became prohibited on 1 January 2016, a finding he bore no fault or negligence for. However, under WADA's guidance this still constitutes an ADRV, so according to the IOC's guidance he has been sanctioned for a previous doping offence, so must miss the Games. In following WADA and IOC guidelines, the FIVB has excluded Markin from Rio for taking a substance before it became prohibited by WADA.
However, Maxwell Holt was a member of the US volleyball team that beat Russia to secure a bronze at the Rio 2016 Olympics. He tested positive for meldonium through a sample given on 10 June, much later than Markin's 6 January AAF, but the US Anti-Doping Agency (USADA) accepted his explanation that he was given the drug by his club, Dynamo Moscow.
'During USADA's investigation of the case, it was discovered that Holt and other players for Dynamo Moscow, a Russian volleyball club, received meldonium prior to the Russian Cup, which took place on the weekend of December 12, 2015', read a statement. 'A team doctor assured Holt and his teammates that the substance was a WADA-approved substance and did not provide a medical justification for taking it. It was not until weeks later that Holt and his teammates realised they had been given meldonium.'
'After a thorough review of the case, USADA concluded that the extremely low meldonium concentration in the athlete's urine sample, combined with the athlete's explanation of use, was consistent with ingestion prior to the substance being officially prohibited on January 1, 2016', continued the statement. 'Based on the latest guidance offered by WADA on June 30, 2016, for cases involving meldonium, Holt will not face a period of ineligibility or loss of results obtained on or subsequent to June 10, 2016, the day his sample was collected.'
In case you haven't already guessed, Markin and Holt play for the same team, Dynamo Moscow. One was allowed to compete at the Rio 2016 Olympics and one was not, despite both having been given meldonium at the same time by their team doctor. The creation of this inequitable situation cannot have been the IOC and WADA's intention when regulating meldonium and Russian participation at the Rio 2016 Olympics.
Parallels: horses for courses
A case involving US harness horse racing is worth mentioning, as it has remarkable parallels to some of the issues highlighted above. A US State court is reportedly giving a reprieve to three Maine harness horsemen who were suspended after their horses tested positive for cobalt. The Maine Harness Racing Commission suspended the licences of seven trainers in June after their horses tested positive for cobalt last year.
Three of the trainers appealed to the Maine Superior Court and the suspensions were stayed pending a full trial, reports Maine Public Broadcasting (MPB). Cumberland County Judge Lance Walker cited a lack of scientific evidence or consensus about cobalt's effects on horse performance.
It is understood that when the cases occurred, the ban on cobalt had yet to take effect. Also, it is understood that the two trainers concerned did not know that cobalt was performance-enhancing. They thought that as it contained vitamins, it might be good for the horses.
"It makes for a better coat on the horse", Bill Childs, who acted for the trainers, told MPB. "Vitamin B12 and vitamin B6, both those vitamins have been known to enrich the blood or make a person feel better or make an animal feel better." Childs said that once the trainers were notified that state regulators considered cobalt to be banned above certain levels, they stopped administering it, and there have been no positive cobalt tests in Maine horses since then.
Sharapova relief
In another decision that has polarised opinion, the CAS reduced a two-year ban issued by the International Tennis Federation (ITF) on 6 June, after she tested positive for meldonium at the Australian Open on 26 January, to 15 months. The CAS panel found that Sharapova bore no significant fault for her positive test for meldonium, accepting her explanation that she had been taking meldonium for ten years and that she 'had a reduced perception of the risk she was incurring' by taking mildronate, as she had been using it for ten years; it was not being taken for performance-enhancing purposes; and that 'no specific warning' had been issued by any of the relevant organisations (WADA, the ITF or the Women's Tennis Association).
The ITF attempted to assert that 'several scientists' including the inventor of the drug, had claimed that it improved athlete endurance and performance, mentioning that it is 'specifically marketed' as a drug that increases exercise capacity. However, the panel did not need to examine whether the scientific data backs this claim up, as Sharapova was able to prove that her reasons for taking mildronate were medical and were not to enhance her performance. Details are available in the 'Statements of Facts' document reproduced above.
Sharapova was born in the Chernobyl region of Russia three months after the 1986 nuclear accident that caused a number of significant health problems for people in the region, especially those born after the disaster. Sharapova took mildronate for ten years after being prescribed in 2006 it along with other substances to deal with a number of health conditions. These included pain and discomfort in the precordial region (region above the heart); vegetative-vascular dystonia (insufficient supply of oxygen to tissues and organs); mineral metabolism disorder
and a number of other conditions.
Sharapova tested positive for meldonium on a number of occasions in 2015 – including in November 2015, after it had been added to the Prohibited List. However, she was not notified of these AAFs and WADA's Anti-Doping Administration and Management System (ADAMS) informed her that her tests were negative – leading her to the conclusion that mildronate was permissible.
It also appears that although the ITF sent 'wallet cards' to the WTA in December 2015, these cards did not highlight the changes to the Prohibited List coming into force on 1 January 2016. They simply listed all the prohibited substances on the List. One of many news items on an 18 December email sent by the WTA to its players mentions the '2016 Tennis Anti-Doping Programme', but doesn't mention any changes to the Prohibited List, just that 'all documentation and information is available through the Player Zone'. Almost half the WTA's top 100 players are from eastern Europe or Russia.
The wallet card was not given to Sharapova but to her coach at the Australian Open, after the 2016 Prohibited List had come into effect. As the wallet card was based on the List itself it listed meldonium but not mildronate, which Sharapova and her coach thought was the chemical name for the drug she was taking. As such, even if she had checked the wallet card, she would almost certainly still have tested positive.
Part of the issue was that through its research on the 2015 Monitoring Programme, WADA was aware of the potential scale of the problem, but didn't pass this information on to ADOs such as the ITF and WTA. As both of these organisations are based in locations where meldonium is not approved for use, then they can hardly be blamed for failing to realise that:
• mildronate is widely used in eastern Europe and Russia;
• meldonium is the active ingredient in mildronate;
• meldonium had been added to the 2016 Prohibited List.
In fact, it could be argued that it is WADA's duty to warn ADOs that a potential problem is brewing. However, despite the lack of warning from WADA, federations such as the International Weightlifting Federation (IWF), based in Hungary, did issue specific warnings to its athletes. On 5 January, the IWF issued a specific warning regarding mildronate, with a link to specific information regarding the various names for the drug and its prevalence of use, issued in October 2015. The warning was also repeated in two other languages – including Russian – in March.
It was not the only ADO to publish an early warning. On 1 October, the Belarusian National Anti-Doping Agency (NADA) published a warning, which again mentioned the brand name mildronate. Of course, the fact that such ADOs appeared to have their eyes on the ball was not of any use to Sharapova. However it does raise questions about why WADA didn't do more to warn ADOs about the upcoming maelstrom regarding meldonium.
A perfect storm
Unfortunately, it appears that athletes such as Sharapova and Markin have been on the receiving end of a perfect storm. WADA has rightly pointed out that it doesn't need to prove that a substance is performance-enhancing to place it onto the Prohibited List. WADA says that its List Committee decided to add meldonium to the List due to 'evidence of clear abuse of the substance while it was on the List's 2015 Monitoring Program'.
However, it appears that WADA conducted no research into how long meldonium remains in the body. 'As a matter of course, for reasons of efficiency, WADA does not conduct excretion studies before including a substance on the Prohibited List', admitted WADA in a 30 June statement. 'This information is generally provided by the manufacturer. In the case of meldonium, no information was provided as it relates to urinary excretion.'
This led to the situation that many athletes reported an AAF for meldonium despite having stopped taking it before it became prohibited. 'In the case of meldonium, however, no information relating to urinary excretion was available and so once it was added to the List, WADA undertook excretion studies', explained WADA in its 5 July release. However, the problem was that by this point, athletes were already reporting AAFs.
"The addition of meldonium to the Prohibited List created an unprecedented situation and therefore, during a transitional period, it warranted additional guidance for those in the anti-doping community tasked with managing cases," said Oliver Niggli, WADA's Director General. "We place full trust in the ability of our Stakeholders to manage meldonium cases effectively, and will be on hand to assist them as necessary".
ADOs that were already under strain managing this situation were then hit by the IOC decision to ban any Russian athletes who had reported an ADRV. WADA no doubt thought it was doing the right thing by advising that athletes who reported low concentrations of meldonium should not be considered at fault for their ADRV. However as its Guidance mandated that an ADRV should be issued in such cases, this – combined with the IOC decision – paradoxically meant that in practice, Russians who had taken meldonium before it became prohibited should be excluded from Rio.
Politicisation of anti-doping
The IOC was placed in a difficult position by WADA's recommendation that it should exclude all Russian athletes from the Rio 2016 Olympics. If it had done so, it could have faced lawsuits from athletes legitimately arguing that they had done nothing wrong – especially those Russian athletes based overseas. In the end, it adopted perhaps the most sensible course of action it could take. If athletes were assessed and shown not to be tainted by systemic Russian doping, then they could compete.
Regarding meldonium, the problematic term is the third IOC condition, which bans any Russian previously sanctioned for doping from Rio. There was no explanation as to why this condition, which appears to be a direct contradiction of the legal principle known as Ne bis in idem (not being punished twice for the same offence), is necessary. It appears to fall into the same box as the the IOC's 'Osaka Rule', or what was Rule 45 of the Olympic Charter. In 2011, the CAS struck out the Rule, which mandated that any athlete serving a doping ban of six months or more would be prohibited from taking part in the next edition of the Olympics.
However the IOC was under pressure from WADA to ban Russia, despite the fact that any legal comeback from that decision would not fall on WADA, but on the IOC. This is perhaps why some within the IOC, such as Sergey Bubka and Gerardo Werthein, have called for reform of WADA. It does not help WADA's case that it appears to have abdicated all responsibility for failure to tackle systemic Russian doping, despite evidence of its failures.
On 8 October, at the 5th Olympic Summit, the IOC took some steps to address these failures. It implemented its request, issued on 17 October last year, to 'make the entire anti-doping system independent from sports organisations'. This will be done by:
• creating a new anti-doping testing authority within the framework of WADA;
• Doping sanctions to be decided by the CAS;
• A standard level of testing to be implemented in each sport by the IF concerned.
WADA is funded by national governments, which agree 50% of WADA's budget. This is then matched by the IOC, which supplies the other 50%. 'The Olympic Movement is ready to contribute to an increased financing along with its partners, the governments', read the Declaration of the 5th Olympic Summit. 'The increase in financing depends on the implementation of the reforms by WADA and is based on the results provided by WADA after the review of the anti-doping system'. On 20 November, WADA's Foundation Board will consider the IOC's recommendations.
Some questions remain. For example, in a 9 October statement, the Institute of National Anti-Doping Organisations (iNADO) points out that if WADA is to operate its own testing authority which it must also regulate, that also represents a conflict of interest. Practical considerations must also be overcome. For example, how will the IAAF ensure that testing in Kenya is at a standard equivalent to that in place in the UK?
Lessons to be learned from meldonium madness
It does appear that a loophole that cheats were using to gain a competitive advantage has been closed. However, it is by no means the only loophole in the anti-doping system – the Fancy Bears data hacks have led many who had never heard of a therapeutic use exemption (TUE) into examining asthma drugs and corticosteroids in detail.
In meldonium's case, a licensed drug designed for a specific medical need has been monitored, found to be getting abused outside of its medical context and has been added to the Prohibited List. Athletes who should never have been taking a medication without just cause have been found out and have suffered the consequence.
It does not appear that Sharapova falls into this category. 'The Panel wishes to point out that the case it heard, and the award it renders, was not about an athlete who cheated', reads the CAS ruling. 'It was only about the degree of fault that can be imputed to a player for her failure to make sure that the substance contained in a product that she had been legally taking over a long period, and for most of the time on the basis of a doctor's prescription, remained in compliance with the TADP and the WADC'.
As one of tennis' highest earners, Sharapova had the money to make her case, and was supported by an expensive legal team comprising of respected sports lawyers including John Haggerty, Howard Jacobs and Mike Morgan of Morgan Sports Law LLP. Other athletes may not be able to afford this luxury and we may never know just how many had legitimate reasons for taking meldonium. On 31 December 2015 these athletes weren't cheats and today they are. Is the objective to stop people using the drug or catch them using it? Have the authorities done enough to affect behavioural change to go alongside changes in the rules?
For example, when concerns were raised about 2.4-dinitrophenol (DNP), an illicit and potentially lethal drug used as a dieting and body-building aid, WADA collaborated with Interpol to put out an Orange Notice of warning. WADA has yet to issue a warning about meldonium in the local language of any of the countries where mildronate use is prevalent.
Why were similar steps not taken to specifically warn athletes about meldonium, given that WADA was aware of its widespread use in eastern Europe and Russia? Critics are likely to allege that WADA deliberately kept quiet about the change in order to ensnare eastern European athletes. In each of the many cases, did ADOs allow themselves the time and opportunity to fully understand the circumstances behind an athlete testing positive? To work out if they are dealing with a cheat? As the evidence above illustrates, it appears that this has not always worked as it should.
In terms of lessons learned, it is unlikely that WADA will add a substance to the Prohibited List again without doing more work on excretion times. It is also suggested that the criteria for inclusion on the Prohibited List may need to be strengthened if ADOs are to be confident that they can proceed with an ADRV with certainty. If WADA is placing a substance onto the List because it has found widespread abuse of that substance in sport without evidence that substance can enhance performance, then ADOs need to know that before they put results management into progress.
Unfortunately, a perfect storm has manifested itself to exclude innocent athletes from the Rio 2016 Olympics. Only time will tell as to whether we will see who is culpable for that examined in detail by sport's courts. Unfortunately, the meldonium madness has led to many innocent athletes being denied their Rio dreams.