5 October 2018
DoJ indictment again illustrates failures of sport governance
In 2015, at the Baur au Lac hotel in Zurich, heads of football's national associations were quietly preparing to re-elect Joseph S. Blatter as President of FIFA, an organisation that had created its own company, ISL, to deal with kickbacks from TV contracts in exchange for votes. For years, Andrew Jennings had been writing about this and for years, FIFA had turned the other cheek, not wanting to acknowledge that its administration was corrupt.
It was only when US investigators were able to tie such payments to US shores that the proverbial hit the fan, prompting a 47 count indictment and the arrest of a number of officials. Such action promoted reforms at FIFA on a scale that had never been seen before.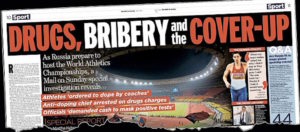 In 2010, two Russian whistleblowers (Vitaly Stepanov & Yulia Stepanova) came forward to tell the World Anti-Doping Agency (WADA) about systematic doping in Russian sport, including the extortion of money from athletes in return for the covering up of positive tests. In 2012, it received corroborating information from Russian discus thrower Darya Pishchalnikova. In 2013, the Mail On Sunday produced a detailed exposé of the same system that was later uncovered in the four Reports into Russian doping that cost WADA US$3.9 million.
In 2014, frustrated with the lack of progress, its Chief Investigator passed information to journalists, whose report forced WADA to act. A year later, WADA suspended the Russian Anti-Doping Agency (RUSADA), and one of the conditions it required for reinstatement was Russia to publicly acknowledge that State officials had been involved in subverting the doping control process in Russia.
Russia stared down WADA which, three years later and frustrated at such a Mexican stand-off, reinstated RUSADA despite Russia not acknowledging that the the State had been involved in subverting the anti-doping process. Yesterday, by tying ID theft and wire fraud charges to US shores, the DoJ has proven that the Russian State attempted to discredit the international anti-doping system in retaliation for its exclusion.
John C. Demers, US Assistant Attorney General for National Security, perhaps puts it better. He said that the GRU launched its attacks "in response to the efforts of anti-doping officials' exposure of Russia's systematic and state-backed athlete doping program. Embarrassed by that truth, Russia fought back by retaliating against the truth tellers and against the truth itself."
Of course, the two situations are not the same. One involves a corrupt sporting organisation, whilst the other involves a State attempt to corrupt sport. However, there is one glaring similarity.
In both situations, US authorities were forced to step in to clean up the mess that sports governance bodies had made in attempting to police the areas that they govern. Yesterday, the DoJ succeeded in proving the links between corruption and those responsible for it – links that sport has failed to establish, despite being presented with plenty of evidence.
Indictment
The language used by the DoJ about who was responsible for cyber attacks on anti-doping organisations is unequivocal. "Today we are indicting seven GRU officers for multiple felonies each, including the use of hacking to spread the personal information of hundreds of anti-doping officials and athletes as part of an effort to distract from Russia's state-sponsored doping program", said Attorney General Jeff Sessions in the DoJ's statement. 
This is in contract to the climb down by WADA on who was responsible for the systematic doping that occurred in Russia. In September last year, WADA's change in definition of what had occurred in Russia from 'State-sponsored' to 'institutional systematic evasion of doping control procedures', allowed Russia to claim that WADA had dropped its charge that the Russian State was involved.
Yesterday's 41 page DoJ indictment (PDF below) outlines that a backpack discovered in a vehicle belonging to one of the agents linked a Russian military intelligence agency – the Main Intelligence Directorate of the General Staff (GRU) – to cyber attacks on anti-doping organisations. The vehicle was raided by Dutch intelligence agencies investigating attempts to hack into a March 2018 Organisation for the Prohibition of Chemical Weapons (OPCW) meeting concerning the poisoning of a former GRU officer, Sergei Skripal, in the UK.
The indictment lists the GRU units (26165 & 74455) involved, as well as their addresses. It confirms that the Russian government issued diplomatic passports to GRU agents to enable them to conduct 'on-site' hacking operations targeting the computer networks used by anti-doping organisations through wi-fi networks. Such 'on-site' operations took place at the Rio 2016 Olympics and even during a September 2016 WADA conference.
The details of how, using the Fancy Bears Hack Team identity, the GRU operatives managed to dupe many into believing that doping in sport is as widespread in 'western' countries as it was in Russia makes for fascinating reading. For a detailed analysis, click here. They even managed to fool the Department for Culture, Media and Sport of the UK Parliament (and the majority of the British public) that Team Sky and Bradley Wiggins were doping.
However, as reported by The Sports Integrity Initiative (here, here and here), their later posts began to reveal the political motives behind their attacks. After such reports, they stopped sending us emails. But they did send a Christmas card (see above). 
In our reporting, we were always careful to state that that such information was not an indication that an athlete had committed a doping offence. Just as well, since the DoJ indictment states that 'in some instances, such information was modified from its original form'.
Impact
The DoJ indictment reveals that illegal activity by GRU officers under their Fancy Bears disguise affected 250 athletes from 30 countries. Emails and Twitter messages were exchanged with 186 reporters in an attempt to gain coverage. The information published on the Fancy Bears internet site often included personal medical and email details pertaining to athletes and – as mentioned – was sometimes faked.
Such media coverage has further undermined the credibility of the anti-doping system that WADA presides over. Unfortunately for WADA, the DoJ indictment comes less than a month after it voted to reinstate RUSADA, despite its government officials saving face by not admitting any political interference in anti-doping. 
The DoJ indictment is an embarrassment to WADA, because it confirms that Russian State operatives did interfere with anti-doping – albeit indirectly. While it is true that the DoJ was only able to launch its indictment following the discovery of the vehicle at the OPCW meeting in March 2018, WADA also had information about what was going on in Russia since at least 2010, perhaps earlier. Whilst it argues that it did not have the investigative tools it required when it received the information in 2010, this did not stop WADA and USADA launching a detailed investigation into allegations that Lance Armstrong had doped.
As the numerous statements issued since its decision to reinstate RUSADA have illustrated, the perception exists that it 'managed' the Russian situation, rather than tackling it. The question that now remains is whether such DoJ action will force the reforms that FIFA underwent to now take place at WADA…