SII Focus
11 February 2016
Concussion, Sport and the Law
Concussion in sport has been a hot topic over the last couple of years, especially since the National Football League (NFL) agreed a US$1 billion settlement in order to compensate players suffering brain injuries as a result of playing American football. The debate has centred on whether such an action could take place over here, as there are undoubtably players who have been permanently injured through playing contact sports where head blows are a common occurrence, such as rugby union. Jack Anderson, a lecturer in sports law at Queen's University Belfast and an Arbitrator at the Court of Arbitration for Sport, examines questions such as whether rugby union has the resources to protect both the elite and amateur game, and how it can adequately provide a duty of care to ex-players.
Early spring is a great time for lovers of the oval ball. The National Football League (NFL) season climaxes with the Super Bowl and in Europe, the Six Nations rugby union tournament begins. Last year, head injuries sustained by the Patriots' Julian Edelman in Super Bowl 49 and by Wales' George North in the opening game of the Six Nations 2015 versus England, highlighted the medical, regulatory and legal implications for the NFL and World Rugby of the greater incidence, reporting and awareness of concussion in contact sport.
The commentary on concussion has tended to focus on the 'acute' and the 'elite'. The 'acute' relates to the debate – led by physicians – as to the effectiveness of pitch side medical protocols used immediately to assess whether players who have taken a head knock should continue, or be removed from the field of play. In a regulatory sense, the 'acute' focus for sports governing bodies is on monitoring compliance with the mandatory rest periods and incremental return to play aspects of extant concussion protocols.
The legal implications are that if the medical protocols in question are not being enforced properly and players are being rushed back, or the protocols are not fit for purpose in the first place and are below reasonably prudent standards in general medical practice, then a vulnerability to negligence based claims from injured players arises. In such claims, a combination of the player's club, team doctor, the referee, the national federation and even the international governing body could be named as a defending party.
The 'elite' refers to the fact that the provision of advanced pitch side assessment protocols – and, as suggested after the Edelman and North controversies in 2015, the installation of concussion 'spotters' in the stands availing of instant video replays – can apply only at the elite level of contact sports. In rugby union, for example, such facilities will never be available to the vast majority who play the sport as amateurs, due to reasons of resourcing. And yet the brain does not distinguish between an injury sustained from a tackler who is paid to do so and one that is given gratuitously.
This leaves sports governing bodies – the focus here is on rugby union – susceptible to the criticism that their medical and regulatory response is limited to assuaging the problem at the elite level. Put somewhat colourfully, the argument is that while the professional player with suspected concussion may get an immediate written referral to a neurologist, which they cannot ignore; amateur players and clubs get asked to put a multi-coloured poster on the dangers of concussions on their dressing room wall, which is duly ignored.
In this, it is interesting to note that one of the first coronial inquests and the first successful claim relating to concussion in rugby in the UK and Ireland emanated from the schoolboy game. Tragically, in Northern Ireland Benjamin Robinson died in 2011 after losing consciousness in a game for his school. A subsequent coronial inquest attributed his death to Second Impact Syndrome (SIS) – the first holding of its kind in the UK – which is when the brain swells rapidly after a person suffers a second concussion before symptoms from an earlier hit to the head have subsided. In 2014, the High Court in Dublin approved a €2.75 million damages settlement to another schoolboy who suffered serious head injuries playing school rugby. Liability for negligence was admitted by his school, and for his hospital treatment. The boy had been hurt by a knee to the head in rugby training 18 days prior to coming on as a substitute in the game, despite protocol indicating that he should have been sidelined for 23 days.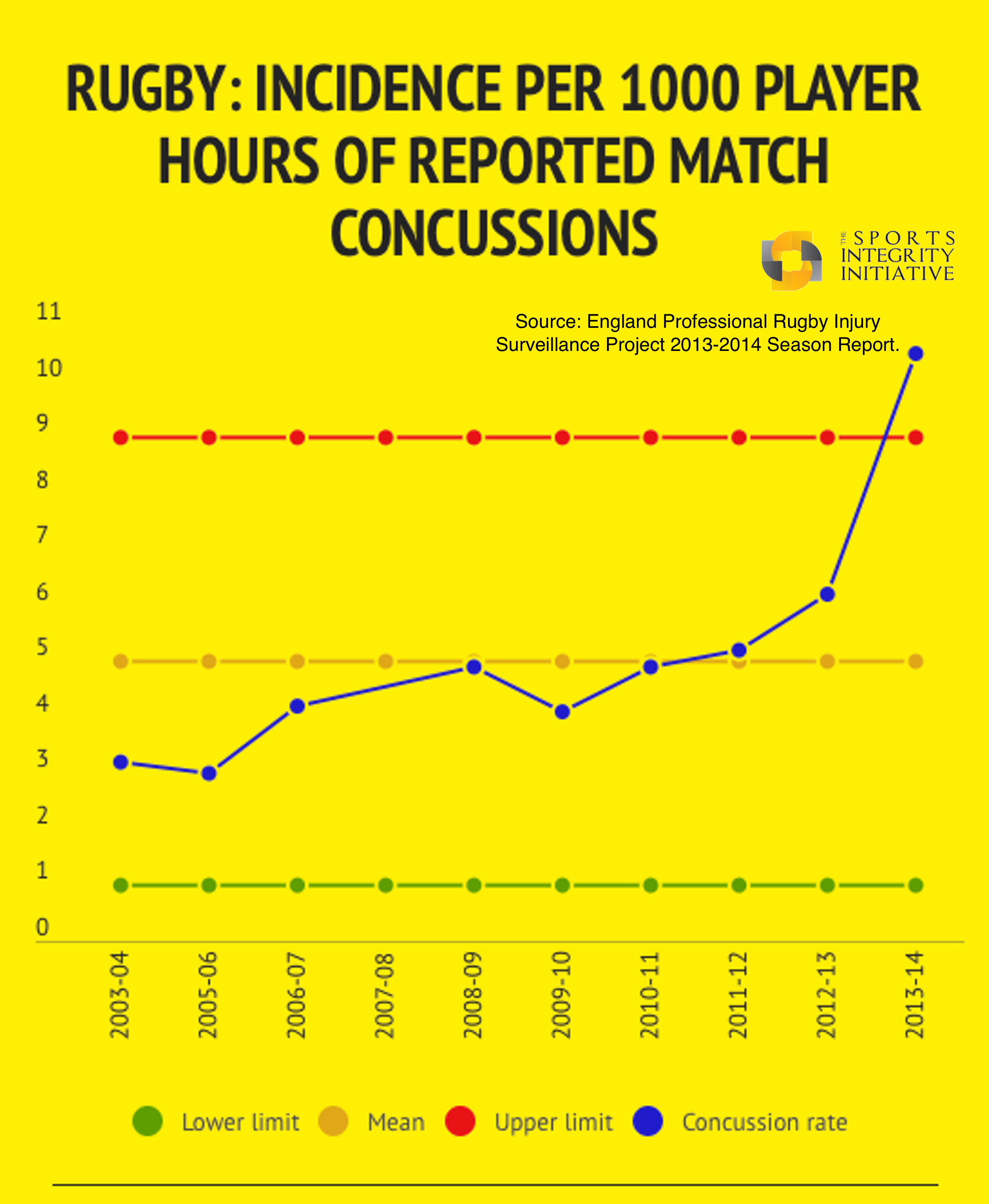 Although an important aspect of the debate on concussion in rugby and other sports is how it is being dealt with at the school and amateur levels of the game, this short piece takes a slightly longer term or 'chronic' view of the topic. The analysis is premised as a response to the following question: in light of the NFL's recent $US1 billion settlement without admission of liability, to the benefit of thousands of its ex-players who are suffering chronic brain trauma and related diseases as a result of playing the sport, what can national governing bodies such as the Rugby Football Union in England (RFU) or World Rugby, as the global body, do to mitigate their exposure to litigation by retired rugby players suffering from the effects of cumulative concussive injuries? The reply is threefold in nature.
Duty to survey
As part of the NFL settlement, $10 million was set aside to underwrite medical research. Devoting resources to medical research is something that must be high on the agenda of any sports governing body involved in contact sport. It is an investment that will pay dividends if carried out properly. Moreover, the argument has been made from a UK perspective that if such research is not available, it hinders a sport's capacity to make informed, dynamic risk assessments such that clubs in that sport may be in breach of statutory obligations relating to employer liability and health and safety in the workplace legislation.
In a more positive vein, there is no doubt that good epidemiological research into concussion can provide insight into both the variety, and mitigation, of risk factors arising from contact sport. This includes issues relating to rules, equipment and even types of surface, which can then be fed back to league administrators, club doctors and player unions so as to inform policy change in the way the sport is played, and in the way players are trained to play it.
In the immediate, and before preventative actions can be suggested for sports injuries, a comprehensive injury surveillance system is required. The NFL has in the past five years developed a very sophisticated system run by Quintiles, one the world's largest biopharmaceutical services companies, which uses a league-wide electronic medical record or 'passport' system, enhancing the ability to share information and understand the setting and impact of injuries.
Arguably, the original annual injury surveillance scheme was initiated by the Australian Football League (AFL) in 1992 and the methodology used by the AFL – the standard AFL player contract includes consent for players' injury records to be passed confidentially from team medical staff to the commissioned researchers – has informed subsequent surveillance systems initiated by the National Rugby League (NRL) in Australia, UEFA and the RFU. The RFU scheme, for example, is run through its injured players' foundation.
Beyond concussion, there is an argument for a national sports injury surveillance system for the UK, but that is a subject for another article. Returning specifically to concussion, the AFL surveillance model, allied to epidemiological research, can better inform the acute response to concussion by way of enhanced pitch side concussion protocols and testing but also how players can better recover from head knocks with a view to gradually returning to play.
In the longer term, research on the consequences of repetitive brain trauma from contact sport participation can shed light on and shape the medico-regulatory response to how much head trauma is causative of brain injury; the symptoms and types of brain trauma (from minor memory loss to Alzheimer's etc.); the age at which players are most susceptible; the environment, game time or training in which head trauma occurs with greatest frequency; and even whether some individuals might be genetically more prone than others.
In all of this, player unions can play a positive role by encouraging retired players to contribute to ongoing medial research. It is also of note that it may be the case that in rugby union, for example, a programme tailored to assisting players in adjusting (their bodies) to the health implications of retirement from a physically demanding and relatively newly professionalised sport may have to be integrated more fully into the current suite of personal development and post-rugby career services provided by professional rugby player unions to their members.
Duty of candour
The concussion crisis in American football has been described as the industrial disease of professional football. On this side of the Atlantic, that phrase was used in 2002 by a coroner who recorded a verdict of 'death by industrial disease' on the former West Bromwich Albion striker, Jeff Astle. The inquest noted that the cumulative heading of heavy, sometimes wet, leather footballs had led to brain injury, causing Astle's death at the age of 59.
Industrial disease is an interesting phrase in this context for both sports and tort lawyers, as it bring to mind the legal battles involving workers seeking compensation from employers as a result of being exposed to asbestos-related diseases such as mesothelioma. The legal pattern established in mesothelioma proceedings in the UK mirrored the 'league of denial' approach by the NFL to possible concussion litigation. In both instances, the pattern for employers was first to deny the very existence of the disease; to then contest the workers' negligence-based claims on the ground of lack of proof of causation before finally being dragged, or even forced statutorily, into a compensation and redress scheme.
It is hoped that, for instance, that rugby union's various authorities will avoid this approach by discharging a duty of candour in their attempts at promoting better concussion management in rugby. In preparation for a worst case scenario, however, it may be time for sports such as rugby union to develop contingency plans for a redress, compensation scheme to deal with future claims for retired rugby players – a concussion injuries disablement scheme and thus enhancing existing support mechanisms provided for, but currently restricted to, players with serious spine and head injuries that result in significant permanent disability.
Duty of care
In the UK and elsewhere, it can be tempting to dismiss litigation trends emanating from the US – in this case for class actions for sports-related head injuries as launched against the NFL, but also the NCAA and NHL – as evidence of that jurisdiction's exaggerated compensation culture. Nevertheless, the litigation of concussion in sport has had an impact in the US beyond the elite major leagues. All 50 States and the District of Colombia have now enacted mandatory youth sports concussion safety laws applicable to the provision of contact sport in the state school system.  The first of these State laws was enacted in May 2009 by Washington State – the Zackery Lystedt Law. The core principles in that Law remain common to all State laws on concussion and include the following mandatory requirements, which may be applicable in years to come on this side of the Atlantic:
• Calls for school districts boards to develop concussion guidelines and educational programmes;
• Provides that youth athletes and a parent and/or guardian sign and return a concussion and head injury information sheet on a yearly basis before the child's first coaching session or that child being allowed to compete;
• Demands that any young athlete suspected of having sustained a concussion in training or during a game must be immediately removed from competition;
• Requires that even where the concussion is suspected only, the child must not be permitted to return to play unless they have been evaluated by a health care provider with specific training in the evaluation and management of concussions and written clearance has been received to return to play from that health care provider.
State youth safety concussion laws in the US also tend to contain legal immunity from civil damages resulting from any act or omission in the rendering of care towards such athletes. These specific provisions are generally predicated on the school providing a statement of compliance with the above noted policies for management of concussion and head injury in youth sports and the provision of proof of insurance. The immunity does not extend to acts or omissions constituting gross negligence or wilful or wanton misconduct, though there is an implied recognition, as there should be, and as can also be found in English law, that in the face of negligence actions, the high social utility of sports participation should be a factor in any assessment of fault.
Conclusion
Compared to rugby league and to American football, rugby union is only recently professionalised and in this it can learn from the older professional codes. It can especially learn from recent medical and media commentary suggesting a link between chronic traumatic encephalopathy (CTE), a progressive degenerative disease found in former American footballers and rugby league players who have suffered repetitive, and sub-concussion blows while playing their chosen sport.
In American football, the list of players whose brain has shown signs of CTE trauma is now well over 100 names long, and includes at least seven members of the Pro Football Hall of Fame such as Junior Seau, Mike Webster, Frank Gifford and, most recently, Ken Stabler, the NFL's most valuable player in 1974 and who as quarterback led the Oakland Raiders to their first Super Bowl title two seasons later. In rugby league, a recent Sydney Morning Herald report on the fate of former rugby league star Mario Fenech, who is suffering from the effects of head knocks, was described as the "tip of the iceberg" by a Sydney neurosurgeon.
It follows that a similar 'iceberg' of chronic cumulative brain injury may soon appear on rugby union's horizon. Evasive action in the form of a data driven, medical and regulatory response benefitting all players and not just those at the elite, first class level, is the preferred option. In the event that litigation does follow, it is hoped that some of the suggestions – the discharge of the three duties – noted above might help mitigate the impact of the collision.