21 November 2020
Biathlon review gives rare insight into Russian State doping
An External Review Commission (ERC) tasked with investigating allegations of past wrongdoing within the International Biathlon Union (IBU) has found that there was a conspiracy to cover up eight Russian doping cases. The connections between the officials involved also gives a rare insight into how Russian State doping may have interacted with an international sporting federation. It also shows how criminal and sporting authorities can work together to investigate doping – a hot topic given the recent passage of the Rodchenkov Anti-Doping Act (RADA).
The ERC was appointed in November 2018, after a confidential Report issued by the Intelligence & Investigations (I&I) department of the World Anti-Doping Agency (WADA) alleged that former IBU President Anders Besseberg had covered up anti-doping rule violations (ADRVs) by Russian biathletes, with the assistance of former Secretary General Nicole Resch. The two stepped aside in April 2018 after police raids on the IBU headquarters in Salzburg, and criminal investigations continue. 
The ERC's draft Report is over 200 pages long and has yet to be finalised. An IBU statement said it was likely to be published in December. That statement also clarified that the ERC had concluded that the IBU had not transferred any 'dirty' Athlete Biological Passport (ABP) profiles to the Russian Biathlon Union (RBU) or the Russian Anti-Doping Agency (RUSADA) 'to be buried'. 
Russian cover ups
Amongst other issues, the final Report will address whether Besseberg and/or Resch 'received benefits of any kind to favour Russian interests'; whether they 'compromised the IBU anti-doping programme to favour Russian interests'; whether they 'followed up properly on evidence of other Russian wrongdoing'; and whether there was an 'adequate investigation' into a recombinant erythropoietin (rEPO) syringe found at the 2015 IBU World Cup in Antholz.

As IBU programme reanalysing samples given by athletes during previous seasons resulted in a number of EPO positives, also published in 2015. The programme was initiated after allegations that Mikhail Prokhorov (Михаи́л Про́хоров), former President of the RBU, bribed Irina Starykh (Ирина Старых) to stay quiet about being instructed to inject EPO by Stanislav (Stastik) Dmitriev. The allegation was made by Dr. Grigory Rodchenkov (Григорий Родченков), former Director of the Moscow Laboratory, in an affidavit (PDF below or click here) provided to the Schmid Commission of the International Olympic Committee (IOC).
In a recent Court of Arbitration for Sport (CAS) case, Prokhorov said he 'categorically rejects the allegation that he had paid millions for the silence of people to an alleged doping of Ms. Irina Starykh'. In other words, he has denied paying people connected to the alleged doping of Starykh, but hasn't denied paying Starykh. Semantics, perhaps.
Prokhorov was appointed as RBU President in 2008 and was replaced by Alexander Kravtsov (Александра Кравцова) after the Sochi 2014 Olympics. Kravtsov headed the CSP, which is in charge of preparing its national teams for international competition, from 2009 until earlier this year, when he was arrested and detained on charges of embezzlement.
Victor Maygurov (Виктор Майгуров) was appointed as Vice President of the RBU by Kravtsov, and was IBU Vice President from 5 September 2014 until 7 September 2018, when he unexpectedly withdrew his candidacy to continue as IBU Vice President. Maygurov was appointed as RBU President this year.
There is no suggestion that he is involved, however in August 2011, it was reported that Maygurov was dismissed from a post as Director of the Yugra Department of Physical Culture and Sports, which his biography reveals he had held since 2008. It is understood that a Diploma of Higher Education he had relied upon in order to secure the post had been faked, and he was required to return his salary.
The ERC's Report to the 14th IBU Congress (PDF below) reveals that it had difficulty talking to any of the key officials. Without naming any of the accused, the ERC said that it would give them a chance to reply before its final Report is published in December.
Besseberg declined to be interviewed whilst criminal proceedings are progressing in Austria and Germany; Resch was 'unable to submit to interview within investigation timeline due to health reasons'; Kravtsov agreed to answer written questions, but failed to do so after being placed, perhaps conveniently, under house arrest where it is understood that restrictions on correspondence remain in place (he was released from prison, perhaps conveniently, shortly after RUSADA's appeal against WADA's Decision to declare it non-compliant with the World Anti-Doping Code was heard at the CAS); Sergey Kushchenko (Сергей Кущенко), a former RBU CEO and IBU Vice President, declined to be interviewed citing data protection concerns, despite the ERC having a clear data protection Policy.
Kushchenko was recently called as one of 14 witnesses in an appeal by three Russian biathletes against sanctions issued by the International Olympic Committee (IOC). The CAS upheld the IOC's sanction against Olga Zaytseva (Ольга Зайцева) for the use of a prohibited method (urine substitution) and a prohibited substance. Zaytseva was one of the eight Russian doping cases that the ERC found was covered up. Incidentally Starykh, whom Dr. Rodchenkov alleges was bribed to stay quiet about EPO use by Prokhorov, went to the same school (School Number 23 in Kurgan) as Yana Romanova (Яна Романова), one of the two Russian biathletes cleared in the CAS case. 
Kushchenko denied having met Dr. Rodchenkov in his car for the purpose of acquiring prohibited substances for the Russian biathlon team (see right). He also denies that his driver, Oleg Besklinskiy (Олег Бесклинский), ever gave any money to Dr. Rodchenkov. This allegation isn't mentioned in the affidavit provided by Dr. Rodchenkov to the Schmid Commission, or in his recent book. It could be part of the Report provided by WADA's I&I team to the ERC, however as that Report remains confidential, this is nothing more than guesswork.
Kushchenko also claimed never to have communicated with Dr. Rodchenkov or Irina Rodionova (Ирина Родионова), Kravtsov's former Deputy at the CSP. His denial of any involvement is perhaps predictable. As previously mentioned, Kushchenko was invited by Prokhorov to become CEO of the RBU in 2009, and remains Prokhorov's chief advisor for sporting affairs. Prokhorov owned US basketball team the Brooklyn Nets, and appointed Kushchenko to its board of Directors in 2011. 
Controlling the narrative
It is understood that Herbert Smith Freehills was retained by the RBU as its legal advisors during Prokhorov's tenure as President of the RBU. It was the same law firm used by all three biathletes at the CAS. It was the same firm used by all three biathletes in their defamation lawsuit against Dr. Rodchenkov in the US. It was alleged that Prokhorov may have financed this lawsuit.
As previously reported, the reason that the appeal by the three Russian biathletes is particularly significant is because it falls outside of the usual Russian methodology of appealing against a doping sanction. Most Russian athletes who have appealed to the CAS have done so through a remarkably small number of law firms. 
A source has previously alleged that Russia's Ministry of Sport will cover the cost of any appeals by Russian athletes to the CAS through money paid to the International Centre for Legal Protection (ICLP), so long as the athletes retain Swiss law firm Schellenberg Wittmer. There is no evidence that even if this is accurate, the Swiss law firm knows anything about this.
Under Russian legislation, State bodies must hold a tender process for services they intend to contract out to commercial companies. An exception is made if the service is contracted out to a non-profit organisation. 
The ICLP was established in 2015. It is run by Andrey Kondakov (Андрей Кондаков), and was set up to 'defend the interests of the Russian Federation', such as in the Yukos case. Kondakov and the ICLP have also been involved in representing Russian athletes at the CAS. 
At the CAS, they represented the 28 athletes whose appeals against IOC sanctions in relation to doping at the Sochi 2014 Winter Olympics were upheld by the CAS. The ICLP also represented Ivan Ukhov (Иван Ухов) in his appeal to the CAS (see pictures, right). 
Schellenberg Wittmer has represented many Russian athletes, such as Yuliya Kondakova (Ю́лия Кондако́ва), Ekaterina Glazyrina (Екатерина Глазырина – one of the eight cases identified by the ERC as having been covered up), and Svetlana Shkolina (Светлана Школина), in appeals to the CAS. It also represented Russian athletes involved in procedures stemming from the IOC's Oswald Commission, such as Aleksandr Tretiakov (Александр Третьяков) and Alexandr Zubkov (Александр Зубков).
It is understood that the Swiss firm also represented the Russian Athletics Federation (RusAF) in drafting its reply to charges levelled by World Athletics in connection to the Danil Lysenko (Данил Лысенко) case. The Athletics Integrity Unit (AIU) of World Athletics said that RusAF had 'gone to great lengths to deny any involvement in the matter, blame others and attack the process'. 
It is also the law firm chosen by the Russian Olympic Committee (ROC) to represent the interests of RUSADA in its challenge to WADA's decision to declare it non-compliant with the World Anti-Doping Code for a four year period. RUSADA has retained the same firm. 
The appeal by the three Russian biathletes fell outside of this system. As a result, a number of apparent discrepancies were identified in evidence given to the CAS. The final ERC Report may be able to shed some light on these discrepancies.
Other issues
The ERC's final Report will also examine whether there was any corruption involved in the award of the 2021 IBU World Championships to Tyumen. The Siberian city was awarded the hosting rights at the IBU's 12th Congress on September 2016 in Chisinau, Moldova's capital. This was after the IOC asked all international federations not to host events in Russia due to Russian State doping.
'Because of the detailed references to the manipulation of samples during the Olympic Winter Games Sochi 2014 the IOC asks all International Olympic Winter Sports Federations to freeze their preparations for major events in Russia, such as World Championships, World Cups or other major international competitions under their responsibility, and to actively look for alternative organisers', read a July 2016 statement. The IOC's Decision came shortly after Richard McLaren published his first of two Reports into Russian State doping. RUSADA had been suspended since 18 November 2015, shortly after Dick Pound published his second Independent Commission Report into Russian State doping. The Moscow Laboratory was suspended eight days earlier.
Yet despite the IOC's advice, the lack of an anti-doping agency or a WADA-accredited Laboratory in Russia, the IBU decided to award the hosting rights to its World Championships to a city over 2,000 kilometres east of Moscow. The ERC's final Report will also contain detail on why the IBU decided no to move the final event of its 2018 World Championships from Tyumen. It will also explain:
• whether the IBU followed up on McLaren's second Report, published in December 2016;
• the IBU's response to the IOC's Schmid Commission Report;
• the IBU's response to evidence within the Laboratory Information Management System (LIMS) retrieved from the Moscow Laboratory.
WADA's Compliance Review Committee (CRC) found that unauthorised searches were made of the Moscow LIMS in relation to Russian biathletes. 'The 2015 LIMS database includes details of (i) a urine sample provided by a Russian male biathlete that returned a Presumptive AAF and then a confirmed AAF for a long term metabolite of oxandrolone, a prohibited anabolic steroid; and (ii) a urine sample provided by a Russian female biathlete that returned Presumptive AAFs and then confirmed AAFs for ostarine (a prohibited SARM) and an ostarine metabolite', reads its November 2019 Report. 'On or about 27 August 2018, the IBU notified the Russian female biathlete that it was investigating her sample for a possible ADRV. On 25 September 2018, an unidentified user using the name 'Quantum' conducted a search in the 2019 LIMS database for the female biathlete's sample.' 
Working together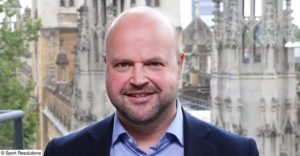 The Chair of the IBU's ERC is Jonathan Taylor QC, who until recently also Chaired WADA's CRC and put forward a compromise to reinstate RUSADA to its 2018 Executive Committee meeting in the Seychelles. Taylor is also legal advisor to World Athletics' Russian Taskforce. As such, some view his appointment as Chair of the ERC with suspicion. But Taylor's experience also means he is familiar with and well placed to deal with the allegations against the IBU. 
Taylor has always argued that his Seychelles compromise was designed to allow WADA to retrieve the Laboratory Information Management System (LIMS) from the Moscow Laboratory. Had RUSADA not been reinstated, it is possible that the data may have remained in the Laboratory, continued to be manipulated by the Russian State, and all traces of such manipulation removed. Evidence could have vanished.
In any case, actions speak louder than words. Over 70,000 files have been reviewed and 60 people have been interviewed by the ERC, which also features former biathlete Vincent Defrasne; Dr. Christian Dorda, an experienced Swiss Arbitrator; Dr. Tanja Haug, an experienced German Arbitrator, and a former advisor to the German athletics federation and anti-doping agency; and Dr. Anja Martin, a German sports lawyer and former Managing Director of Germany's national anti-doping agency. The ERC has also successfully implemented governance reforms at the IBU, including the appointment of Barrister Louise Reilly to head a new Biathlon Integrity Unit (BIU).
The ERC's investigation also illustrates how criminal authorities and sport can work together to investigate international doping fraud conspiracies. As mentioned, the ERC had difficulty in speaking to many of the officials involved. Sporting bodies can only issue sporting sanctions, but an investigation into a criminal offence is harder for sporting officials to ignore.
The ERC outlined that it was able to offer support to Austrian and Norwegian criminal authorities with their biathlon investigations. It has also been in contact with Austrian and German criminal authorities regarding their Operation Aderlass investigations into the blood doping customers of Dr. Mark Schmidt. In return, it has accepted a request from Austria 'to takeover investigation of allegations that Mr Besseberg received and accepted gifts, money, and other benefits from RBU officials and others with interests in IBU business'. 
Earlier this week, the US Senate approved the Rodchenkov Anti-Doping Act (RADA), which is currently awaiting the US President's signature. The complicated interactions highlighted above perhaps illustrate why the US government thinks it is necessary to criminalise international doping fraud conspiracies. Aspects of doping in sport are criminalised in Austria, Germany, and Norway and as outlined above, this facilitated the ERC's investigations.
As the Act outlines, 'Rodchenkov helped develop and distribute banned performance-enhancing substances for thousands of Russian Olympians from 2006 to 2015'. There is evidence that both the International Association of Athletics Federations (IAAF) – as it then was – and WADA knew about what was going on in Russia before December 2014, when they claimed to have been alerted to the situation by a documentary for Germany's ARD. In fact, WADA's chief investigator at the time has confessed to supplying the journalists involved in that documentary with information.
WADA failed to act over Russian State doping. Just like FIFA failed to act ahead of the dramatic arrest of its officials at the Baur au Lac hotel in 2015. In both situations, US authorities have been forced to act due to sport's failures to hold the perpetrators to account. The apparent successful cooperation between the ERC and criminal authorities in three countries shows why criminalising doping might not be such a bad thing.