19 January 2017
UK Parliament clarifies questions for IAAF President Sebastian Coe
The Culture, Media and Sport (CMS) Committee has clarified the questions it wishes to ask Sebastian Coe, President of the International Association of Athletics Federations (IAAF), if he accepts its request to return to the UK Parliament for further questioning. The CMS Committee has published correspondence between its Chair, Damian Collins MP and Coe in which the IAAF President questions why he has been asked to return. The IAAF has previously stated that Coe has previously answered all questions relating to the situation and has no new information to offer the CMS Committee.
'So far, I have read in your statement and in direct quotes from you through the media that, in light of David Bedford's evidence to the Select Committee last week, you consider there to be "a whole range of questions that remain unanswered"', reads a 16 January letter (PDF below) from Coe to Damain Collins, Chair of the CMS Committee. 'I have now had the opportunity to review David Bedford's evidence to the Select Committee and, having done so, I must say it is not clear to me at all what these questions are'.
When questioned by the CMS Committee on 2 December 2015, Coe was vague about how much he about the allegations of systemic, State-sanctioned Russian doping prior to ARD's December 2014 documentary. "We were not aware – I was certainly not aware – of the specific allegations that had been made around the corruption of anti-doping processes in Russia", he said. "I would have been aware of the escalation of the problem and those concerns were relayed in Council by me and by others […] I did actually say on record that I was grateful the ARD brought to the attention of our sport those particular challenges. When ARD reported their concerns, allegations and findings in November [December] 2014, I said at the time, 'Please hand over to us what you have because this will help us understand a great deal more about the issue'. I said, 'If you don't trust our organisation then hand it to WADA. If you don't trust WADA, hand it to an independent organisation.'"
David Bedford's evidence to the CMS Committee on 10 January this year indicated that he had sent written documentation to Coe in August 2014 regarding the extortion of Liliya Shobukhova by athletics officials in return for the covering up of positive doping tests. Bedford also spoke to Coe in August 2014 and urged him to examine the documentation he was sending. The CMS Committee has previously suggested that Coe's failure to examine the evidence was 'wilful ignorance'.
'In the course of David Bedford's evidence we learned that he had also telephoned and spoken to you in August 2014 about the email before sending it to you, as well as texting afterwards', read an 18 January letter of response from Collins to Coe (PDF below). 'We also understand that you were invited to meet a representative of the Russian whistleblowers in 2014. David Bedford told the Committee that in his view, you were aware, at least in general terms, of the allegations that the whistleblowers had made. However, when you gave evidence to this Committee on 2 December 2015, you told us that you did not know about specific allegations about Russian dopign and corruption until Hajo Seppelt's documentary about the IAAF was broadcast. We wish to pursue this discrepancy. We also infer from the text of your e-mail exchange with Michael Beloff QC that you had sent him an earlier e-mail relating to the information that David Bedford had sent to you. We would be grateful if you would send to us a copy of your full exchange of e-mails with Michael Beloff, relating to the information you received from David Bedford.'
The CMS Committee wishes to question Coe in order to ascertain whether he deliberately ignored allegations that officials were complicit in extorting money from Russian athletes in order to cover up positive doping tests. Bedford sent his August 2014 email shortly before Coe announced his candidacy for IAAF Presidency in November 2014. In December 2015, Coe also denied any knowledge of allegations of corruption against IAAF President Lamine Diack or his son, Papa Massata Diack, until ARD's December 2014 documentary aired.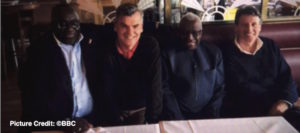 The CMS Committee suspects that Coe knew about allegations of corruption within the IAAF and Russia, but planned to delay dealing with them until he was appointed IAAF President (on 19 August 2015). "It might be true that he decided that the best way he could help the sport was to make sure that he got elected as President, because if that did not happen then there was no future for the sport", Bedford told the CMS Committee on 10 January. "What are you suggesting – that he thought his prospects of being elected were best served by remaining wilfully ignorant of evidence of corruption?" asked John Nicholson MP. "That is the only thing that I can think of", replied Bedford. "I have no evidence for it".
The IAAF Ethics Board is still investigating whether Nick Davies delayed announcing Russian doping positives until after the 2013 Moscow IAAF World Championships, while Davies was Director of Communications at the IAAF. Davies was provisionally suspended as Director of the IAAF President's Office in June last year, almost seven months after stepping aside pending the investigation into whether a US$30,000 payment to Davies by Papa Massata Diack was 'intended to have and/or in fact produced any manipulative effect'. The emails suggest that part of the $30,000 was to 'assuage Jane Boulter', Davies' wife.
Davies' emails suggested that senior officials at the IAAF were choosing when to announce doping positives in order to minimise reputational damage back in July 2013, just two weeks after the Mail on Sunday published the results of its investigation into systemic Russian doping on 7 July 2013. In the emails, originally published by Le Monde, Davies suggests launching an unofficial PR campaign to 'ensure that we avoid international media scandals related to the Moscow Championships'. He suggests using CSM, a sports marketing company Chaired by Coe to do this, in order to 'benefit from Seb's political influence in the UK'. He also says that he needs to sit down with the IAAF's Anti-Doping Department to understand exactly what 'Russian "skeleton" we still have in the cupboard regarding doping'.
Davies has admitted accepting the US$30,000 payment, but claimed that he thought the payment was a reward for hard work. "I was conned and never for a second was I told, or thought, this money was to ensure cover-ups of doping in Russia", Davies told the Daily Mail. "That would have been abhorrent to me. I thought I could trust Lamine Diack and it was my job to promote and protect the image of the IAAF and the World Championships. The first I heard about the allegations of extortion and cover-ups of Russian doping cases by IAAF representatives was in 2014. I was never mixed up or aware of the criminal activities which are now in the public domain."