7th April 2021
Sports Integrity Briefs – 7 April 2021
• Heiki Nabi's appeal against a provisional suspension imposed by the Estonian Anti-Doping and Sports Integrity Agency (EADSE) following an adverse analytical finding (AAF) for a metabolite of letrozole has been rejected in an Estonian court, reports ERR. It is understood that the Greco-Roman wrestler (pictured) argued that EADSE provisionally suspended him without affording him the opportunity to be heard, as required by Article 7.4 of the World Anti-Doping Code (see right). Nabi maintains that his AAF was accidental.
• Three boxers have been sanctioned for anti-doping rule violations (ADRVs), the Anti-Doping Agency of Serbia (ADAS) announced. Sasha Milovtsa (Сашу Миловца) and Damjan Grmuš (Дамјана Грмушу) were sanctioned with two year bans, and Strahinja Karabegovic (Страхињу Карабеговића) was sanctioned with a four year ban. All three boxers returned adverse analytical findings (AAFs) following a 3 October 2020 test, and their bans will run from 2 December.
• Two Italians, understood to be involved with bodybuilding, have been sanctioned with ten year bans, Italy's anti-doping agency (NADO Italia) announced. Luigi Vettigli and Michele Armillotta were both sanctioned for use or attempted use of a prohibited substance; possession of a prohibited substance; trafficking; and multiple violations. In addition, a volleyball player and a dance sport athlete have been provisionally suspended after reporting adverse analytical findings (AAFs). Alberto Polo returned an AAF for meldonium, hydrochlorothiazide, 4-amino-6-chloro-1,3-benzenedisulfonamide (ACB), testosterone and its precursor, DHEA, at the Piacenza vs. Itas Trentino SuperLega Quarter Final Play-Off on 14 March. Cristian Francesco Bilardi returned an AAF for betamethasone at the Italian dance sport Championships on 7 March.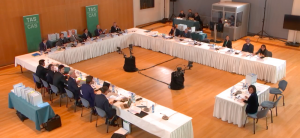 • The Court of Arbitration for Sport (CAS) announced it will hold a new hearing into the World Anti-Doping Agency's (WADA) appeal against the international swimming federation's (FINA) Decision to clear Sun Yang of a doping offence on 24-28 May. The Swiss Federal Tribunal (SFT) overturned the previous CAS Decision, which upheld WADA's appeal and imposed an eight year ban, after lawyers successfully argued that the Chair of the CAS Panel was biased due to a series of tweets containing derogatory terms about the Chinese, as reported (warning – this article features images of animal cruelty) on The Sports Integrity Initiative.
• Rasmus Nicolaisen, a defender for FC Portsmouth, has accepted a £2,500 fine from England's Football Association (FA) for placing 53 bets on football matches during one week last November. The League One club accepted the Danish player's explanation that he was unaware that the FA's rules placed a blanket ban on all football betting.
• Avelino 'Jaja' Coelho Jakson has been sanctioned with a four year ban for an anti-doping rule violation (ADRV), the Asian Football Confederation (AFC) announced. The Brazilian returned an adverse analytical finding following a test at the AFC Champions League match between Chiangrai United and Melbourne Victory on 30 November last year.
• Three men including a UK football agent have been arrested as part of an investigation into alleged fraud at an English Football Association (FA) hearing in 2015, reports The Times. In July last year, an investigation by the newspaper featured undercover footage of John Shepherd of Sport Mobile claiming that Rio Ferdinand's phone records were altered to assist him with explaining a missed drugs test. Sport Mobile has always denied any wrongdoing.
• Two Iranian wrestlers have been sanctioned with four year bans, reports the Tehran Times. It is understood that Masoud Kamarvand returned an adverse analytical finding (AAF) for stanozolol on 24 January; and Arman Tahmasebi returned an AAF for boldenone on 31 January.