24th December 2020
CAS ruling imposing eight year ban on Sun Yang is set aside
The eight year ban imposed on swimmer Sun Yang has been set aside and the Court of Arbitration for Sport (CAS) will have to rehear the case, after lawyers successfully argued that one of the Arbitrators was biased, confirmed the Swiss Federal Tribunal (Bundesgericht). 'The Swiss Federal Tribunal's decision upholds a challenge against the Chair of the CAS Panel and makes no comment on the substance of the case', confirmed a WADA statement.
The Chair of the CAS Panel in the Sun Yang case was Franco Frattini, an Italian judge. He was found to have tweeted a series of messages relating to alleged animal cruelty in Yulin featuring derogatory terms about the Chinese, as reported (warning – this article features images of animal cruelty) on The Sports Integrity Initiative.
The CAS hearing was the first to be held in public. Analysis of the recordings resulted in discrepancies being identified, one of which also involved Frattini. After Sun's mother testified and when calling the next witness to the stand, Frattini quietly commented to other panelists; "A very strong witness, ha-ha". (https://vimeo.com/373377323 at 52:20). Frattini is also Chairman of the Sport Integrity Global Alliance (SIGA).
Background
The international swimming federation (FINA) initially cleared Sun of evading and tampering with a doping control on 3 January 2019. It found (PDF below or click here) that doping control staff from International Doping Tests and Management (IDTM) failed to provide the correct documentation. As such, FINA ruled that an IDTM doping control performed on Sun on 4 September 2018 was invalid, and Sun couldn't be charged with tampering with an invalid doping control.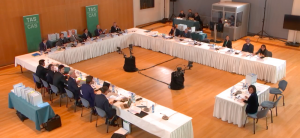 WADA successfully appealed, resulting in an eight year ban being imposed for a second doping offence, as Sun had been sanctioned for an anti-doping rule violation (ADRV) in 2014. Analysis of the CAS Decision (PDF below or click here) and recordings resulted in allegations that testimonies suffered from insufficient time and a translator with a conflict of interests; a measure on mistranslation was proven ineffectual; requests from key witnesses to testify were denied; and relevant allegations were submitted but not assessed. Questions on how the CAS Panel interpreted WADA's standards under Swiss law have also been raised.
Round two
It is understood that the Bundesgericht's ruling, the reasoning behind which has yet to be made available, only concerns a challenge to Frattini and not on these other points. WADA is encouraged by this.
'In the CAS award, WADA clearly prevailed on the substance of the case as it was able to show that there were a number of aspects of the original FINA decision that were incorrect under the World Anti-Doping Code and the related International Standard for Testing and Investigations', continues WADA's statement. 'WADA will take steps to present its case robustly again when the matter returns to the CAS Panel, which will be chaired by a different President'.
Given the discrepancies revealed through analysis of the CAS public hearing in Yang's case, it will be interesting to see whether the second CAS hearing also takes place in public. Sun's legal team are likely to support a public hearing, as analysis of the recordings helped them. WADA would be likely to face criticism if it opposed a public hearing.
As Sun was initially cleared of committing an ADRV by FINA, it is understood he is currently free to compete at the rescheduled Tokyo 2020 Olympics from 31 July 2021. However, it is likely that the CAS will rehear his case before then.