28 August 2019
Spider's web: French prosecutors further widen IAAF probe
French prosecutors are investigating if Athletics Management & Services (AMS), a marketing partner of Dentsu, played a role in the alleged embezzlement of sponsorship revenue from deals agreed with between the International Association of Athletics Federation (IAAF), reports Reuters. It is understood that an 89-page referral order, signed by French investigating magistrate Renaud Van Ruymbeke, alleges that AMS played a central role in diverting sponsorship funds to Papa Massata Diack, son of former IAAF President, Lamine Diack.
Van Ruymbeke reportedly signed a May 2018 request asking Swiss authorities to raid AMS's offices in Lucerne and secure contracts between AMS and Dentsu, AMS and Papa Massata Diack's companies, plus contracts with five companies that secured deals with the IAAF. These are: VTB Bank; China Petroleum & Chemical Corp. (SINOPEC); Samsung Electronics; China Central TV; and Abu Dhabi Media Corporation. It is understood the request has yet to be acted on.
A September 2015 Consultancy Agreement (PDF below) reveals that Dentsu and AMS partnered with Papa Massata Diack from 2007 onwards to secure sponsorship for the IAAF's World Athletics Series (WAS) in Brazil, Russia, India, China, South Korea, Mexico, South Africa and the Gulf States. It also reveals that Dentsu and AMS gave Papa Massata Diack the right to approach certain companies in certain territories regarding sponsorship of the WAS.
'The consultancy agreement was subsequently renewed in December 2012 after I [Papa Massata Diack] successfully assisted IAAF and Dentsu to conclude commercial partnerships in Russia (VTB), in South Korea (Samsung Electronics), IAAF Diamond League Title sponsorship (2010/2012; SAMSUNG), in China (SINOPEC) and broker the payment of the WCH 2015 [held in Beijing] Athletes Prize Money by an Official IAAF Partner (SINOPEC; US$7,000,000)', reads the document. 'PMD Consulting was paid in 2007/2012, a daily consultancy fee of US$900 plus all travel & accommodation expenses. It was subsequently increased to US$1200 for the period 2012/2015. It was also agreed a 5% commission on all agreements brought in for the IAAF which have a direct impact on IAAF Finances (Diamond League, Continental Programme, Prize Money, etc).'
On page 3 of a second May 2015 Report (PDF below), Papa Massata Diack outlines the background to his appointment by the IAAF. 'It is an honour and privilege to have worked since 2007 with IAAF & its exclusive worldwide marketing partner, Dentsu INC. to sell the number one Olympic sport, Athletics', it reads. 'The background of the relationship dated back to May 2001, when ISL Marketing AG was declared bankrupt and I was consulted informally by the IAAF President, Mr. Lamine Diack and IAAF Vice President & Marketing Commission, Prof. Dr. Helmut Digel, to give advise [sic.] on the selection of a replacement company.
'It was only in July 2006 when I first attended the IAAF Marketing Commission meeting at IAAF World Junior Championships Beijing 2006 when my personal contribution was then formally requested based on my suggestion to reach out to Emerging Markets including BRICS (Brazil, Russia, India, China South Africa)? Asia (including Middle East), NACAC and Oceania regions. My appointment was confirmed by IAAF President in September 2007. Then in 2009, the IAAF Council introduced the IAAF Continental Programme in its decentralization policy and my company was appointed as the main coordinator for this property.
'Thanks to all the stakeholders that have made this journey possible and especially Athletics Management & Services AG (AMS) with whom I co-operate with closely in order to achieve these goals. I am grateful for their total dedication to service Athletics and to strengthen the business model of IAAF & Dentsu over the years.'
'IAAF, Dentsu/AMS approved the appointment of Pamodzi Sports Consulting [Diack's company] to be the event coordinator for 9 to 11 events from 2010 to 2015; all reports are available on the MSD [Member Services Department] of IAAF', continues the Report. 'Pamodzi had the full cooperation of IAAF Senior Marketing Manager, Ms. Cinzia Molinari & MSD Senior Manager, Mr. Jee Isram for the proper implementation of this programme throughout the period. Special thanks to IAAF Development & Member Federations Relations Department Director, Mr. Malek El Hebil.'
Dentsu acquired most of the IAAF's global rights in 2001 following the bankruptcy of International Sports and Leisure (ISL). It is understood that one of the major reasons that the Swiss sports marketing company went bankrupt was because of 'commission' paid to FIFA executives in the 1990s in order to secure lucrative TV contracts. It is also understood that AMS was formed by ISL employees following the collapse of the company. Like AMS, ISL was also based in Lucerne.
The two documents also reveal the value of the contracts secured by AMS and Diack reportedly mentioned in the referral document. They are as follows:
• VTB Bank – US$30.367 million;
• China Petroleum & Chemical Corp. (SINOPEC) – US$20.625 million;
• Samsung – US$29.1 million;
• China Central TV – US$3.41 million;
• Abu Dhabi Media Corporation – US$8.346 million.
VTB Bank
In 2007, two months after the IAAF appointed appoint Moscow as host of the 2013 IAAF World Championships, VTB (ВТБ) agreed a deal to become a Partner of the IAAF until 2011. In 2012, the partnership was extended to cover the 2013 Moscow IAAF Worlds in a deal arranged by Papa Massata Diack.
The Affidavit published by Dr. Grigory Rodchenkov, former Director of the Moscow Laboratory, alleged that he discussed the payment of a 'large bribe' to avoid detection of Russia's State doping system with Vitaly Mutko, the country's former Minister of Sport. Dr. Rodchenkov did not give details, but it has been alleged that Papa Massata Diack secured the VTB deal in exchange for the IAAF turning a blind eye to Russian positive tests until after Moscow 2013.
"We had to report the suspension of Russian athletes suspected of doping after the World Championships in 2013", Lamine Diack told French media. "If there were no TV rights, no marketing rights, and if the athletes would have been suspended, it would have been a catastrophe". 
'An issue had arisen regarding the TV rights to the Championships that had been awarded in 2009 to the IAAF', reads the World Anti-Doping Agency's (WADA) second Independent Commission (IC) Report. 'The "problem" is described as having a $6 million US price tag […] it is known that at this point PMD [Papa Massata Diack] was able to bring in a sponsorship arrangement with the VTB Bank worth $25 million US.' As mentioned, Papa Massata Diack's Marketing Presentations suggest that VTB's involvement could have been worth even more than that.
China Petroleum Corp.
The IAAF announced a sponsorship deal with China Petroleum Corp. (SINOPEC) in August 2010, shortly before Beijing was announced as host of the 2015 IAAF World Championships in November of that year. Papa Massata Diack's marketing presentations reveal that the deal was worth US$20.625 million to the IAAF. 
Ahead of the Beijing 2015 Worlds, evidence given by Nick Davies, former Director of IAAF President Sebastian Coe's office, suggests that US$500,000 in cash was taken to China to cover the expenses of IAAF officials. Davies was banned for life for accepting US$30,000 in cash from Papa Massata Diack in order to 'improve the media mood' regarding doping in Russia ahead of Moscow 2013. The true purpose of the email was outlined in an 29 July 2013 email from Papa Massata Diack to his father. It read as follows:
'VVB [Valentin Balakhnichev] asked me to intervene internally with IAAF personnel who had been antagonistic towards him in the process of the management of the Russian cases [ce dossier] since September 2012 and, to this end, work of lobbying and of explanation has been carried out with C. Thiare (50 K), N Davies (UK press lobbying, 30 K and to calm down Jane Boulter); G Dollé (50 K) and PY Garnier (assistance Champagnolle 10K; managed by Cheikh who has agreed to speak to them so as to bring me up to date on Monday 29 July)'.
Samsung
The IAAF appointed Samsung as an official partner in May 2009, and Papa Massata Diack's Reports reveal that the deal was worth US$29.1 million to the IAAF. This was two years after the IAAF announced that Daegu, in Samsung's home country of South Korea, would be hosting the 2011 World Championships. 
In April last year, Papa Massata Diack denied allegations that he was involved in compiling a list of International Olympic Committee (IOC) members that were likely to support PyeongChang's bid to host the 2018 Winter Olympics in exchange for marketing and sponsorship contracts with Korean company Samsung. 
Korean broadcaster SBS alleged that Samsung's sponsorship of the 2010 African Junior Athletics Championships, which took place in Nairobi, Kenya from 28 July to 1 August, was part of the deal, as was its sponsorship of the 2011 African Junior Championships in Gaborone, Botswana. It was alleged that Papa Diack was to receive up to US$12.5 million (€10.4 million) if these and other contracts were secured, as well as a bonus.
The September 2015 Marketing Report produced by Papa Massata Diack appears to indicate that his company, PMD Consulting, may have had responsibility for securing sponsorship of such events. The document states that in 2010, the IAAF introduced the IAAF Continental Programme as part of a decentralisation policy, and PMD Consulting was appointed as the main coordinator of that policy. This involved the staging of ten events annually in North America, Central America and the Caribbean, South America, Africa, Oceania and Asia.
China Central TV
In November 2012, the IAAF agreed a six year deal with China Central Television (CCTV) to cover the next three editions of the IAAF World Championships. Papa Massata Diack's reports reveal that the deal was worth US$3.41 million to the IAAF. Diack's May 2015 Marketing Report mentions 'Special thanks to Mr. Anderson Yeo and Mr. Ianton Tan for client servicing in People's Republic of China'.
A French indictment document recently placed Papa Massata Diack and 'Black Tidings' at the heart of brokering agreements to secure votes for hosting sporting events. In an interview with The Sports Integrity Initiative, Papa Massata Diack agues that Black Tidings is owned by Tan, whom he admitted paying for work carryied out work in China, but denied any link with the company. 
The second WADA IC Report linked Black Tidings and AMS to Ian Tan Hong Han. 'The IC has been informed that Dentsu Sports, an affiliate of Dentsu Inc., set up a service company in Lucerne, Switzerland known as Athletics Management & Services AG (AMS)', it reads. 'The purpose of AMS was to market and deliver the commercial rights granted to it by the IAAF. AMS retained TAN as a consultant on the IAAF World Championships (including Beijing 2015) and other IAAF World Athletics Series events. His contractual arrangements required him to contribute to the delivery of those events.'
A year before he was arrested, Lamine Diack extended the IAAF's marketing contract with Dentsu, AMS's  until 2029. In July 2015, the IOC awarded the exclusive broadcast rights in 22 Asian countries to Dentsu, covering both Summer and Winter Olympic Games from 2018 to 2024.
Abu Dhabi Media Corporation 
The IAAF agreed a partnership with Abu Dhabi Media Corporation in January 2014, ten months before Doha was appointed as host of the 2019 IAAF World Championships, after narrowly losing out to London in a 2011 vote on the host of the 2017 Worlds. Papa Massata Diack's Reports suggest that the deal was worth US$8.346 million to the IAAF, but due to a 'buy back' option for subsequent sales to BeIN Sports, the final value will be reduced by US$3 million.
The Chairman of BeIN Sports is Nasser Al-Khelaifi, who is also Chair of Qatar Sports Investments (QSI). QSI was founded by Sheikh Tamim Bin Hamad Al Thani, current Emir of Qatar, reports the BBC. His father, Sheikh Hamad bin Khalifa bin Hamad bin Abdullah bin Jassim bin Mohammed Al Thani, established the State owned Qatar Investment Authority (QIA).
It is understood that his son, Sheikh Tamim Al Thani, chose Al-Khelaifi to head QSI. QSI is understood to be an arm of State owned QIA, although reports which suggest that State investment arm QIA bought 70% of French football club Paris Saint Germain in 2011 – and not QSI – appear to have been wiped from the internet. 
A statement from Colony Capital, which sold 70% of its ownership in the French club in a 2011 deal, said that an agreement had been reached with a 'Qatari investment company'. Shortly after the deal, State-funded Al Jazeera invested a large amount of money into France's Ligue 1 through an increased TV rights deal. BeIN, which Al-Khelaifi Chairs, later took over the rights following its 2012 launch.
As The Sports Integrity Initiative reported in November 2016, QSI described itself as a '100% Qatari private shareholding company' that is designed to generate revenues to be 'reinvested into Qatar's sport, leisure and entertainment sectors to benefit the community as a whole'. This description has been changed on the English version of its internet site, but is still available using the Arabic version.
Further evidence of an apparent link between QIA and QSI is provided by BeIn Media Group's profile of Al-Khelaifi. The Arabic version of the site lists him as being a board member of the State owned Qatar Investment Authority (QIA) since 2015, whereas the English version neglects to mention this.
In 2011 after a voting process in Monaco, the IAAF selected London over Doha to host the 2017 IAAF World Championships. In November 2016, Le Monde claimed to have evidence of two bank transfers sent to Pamodzi Sports Consulting shortly before the vote.
The newspaper claimed that QSI sent US$3 million to Pamodzi on 13 October 2011, followed by a further $500,000 sent on 7 November, four days before the 2017 Worlds were awarded to London. The amount matches BeIN's $3 million 'buy back' option mentioned by Papa Massata Diack in his marketing Reports.
Olympics
In 2016, after an inquiry lasting four months, the Japan Olympic Committee (JOC) cleared officials of any wrongdoing in connection to a US$2.05 payment to Black Tidings for 'consultancy services' during Tokyo's bid to host the 2020 Olympics. However in January, French police began an investigation into Tsunekazu Takeda, JOC President, in relation to the same payment. It is understood that investigation is ongoing.
In September 2017, Papa Massata Diack and Sergey Bubka denied that a US$45,000 payment to New Mills Investments was related to any form of corruption. Le Monde reported that the transaction took place on 18 June 2009 and a day earlier, an almost identical amount ($45,003) was transferred from New Mills Investments to Pamodzi Sports Consulting.
New Mills Investments is understood to be registered in St. Kitts & Nevis under Valentin Balakhnichev's name. Balakhnichev is former President of the Russian Athletics Federation (RusAF) and former IAAF Treasurer.
An investigation by prosecutors from five countries exposed bribes paid in return for votes to appoint Rio as the host of the 2016 Olympic Games, bribes connected to the hiring of contractors as well as fictitious service contracts and personal expenses connected to the Games. The investigation found that former governor of Rio de Janeiro, Sergio Cabral, operated in concert with businessman Arthur César de Menezes Soares Filho (known as 'King Arthur') to pay US$2 million to Lamine Diack in return for his vote to appoint Rio as 2016 Olympic host. Cabral was jailed for 14 years in June 2017, after accusations that he ran a criminal organisation and accepted bribes.
Brazil's Federal Public Ministry (MPF) said that the $2 million came from Matlock Capital Group, a company owned by 'King Arthur' based in the British Virgin Islands. 'He did nothing more than pass on the fee that would Sergio Cabral would pay directly to the Senegalese in exchange for votes to choose the host city of the 2016 Olympics', read a statement. The MPF alleges that the payment to Lamine Diack was arranged through Papa Massata Diack.
Spider's web
The detail outlined above illustrates exactly why French prosecutors are interested in AMS, and in the contracts the company was involved with. Their investigations may also be of interest to US prosecutors, who in February this year issued the IAAF and other sporing organisations with subpoenas for information in connection to the bidding process for hosting major sporting events.
US prosecutors are understood to be focussing on Helios Partners. The company was the lead agency behind Russia's successful bid to host the 2018 FIFA World Cup, as well as the Sochi 2014 Winter Olympics. It was also behind the Russian city of Kazan's successful bid to host the 2015 international swimming federation (FINA) World Championships, and worked on Tokyo's successful bid to host the 2020 Olympic Games. In 2012, Helios Partners was bought by Amaury Group, a French media company whose Amaury Sport Organisation subsidiary organises the Tour de France.
French prosecutors have been examining allegations of corruption in athletics since August 2015. Its financial prosecutor, the Parquet National Financier (PNF) opened 'several investigations' after being passed information by the World Anti-Doping Agency (WADA) on 4 August 2015, which resulted in the arrest of Lamine Diack.
In December 2015, the PNF widened the scope of its investigation to include the awarding of the Tokyo 2020 Olympic Games. In March 2016, the scope of the investigation was widened to include awarding of the Rio 2016 Olympics; to include the award of the the 2021 World Athletics Championships to Eugene, Oregon; to include allegations of corruption in connection to the 2006 IAAF Athletics World Cup; allegations concerning the award of the 2017 World Athletics Championships to London and the 2019 edition to Doha.
It would appear that prosecutors are only now beginning to nail down companies that can be held accountable in a court of law. The Diacks have already been indicted by French prosecutors, but charging them has proven difficult, to date, due to a lack of concrete evidence. Could the investigation into AMS be a sign that, four years after Lamine Diack was arrested by French police, that evidence is solidifying?
If that is the case, it remains to be seen if the current IAAF leadership will emerge unscathed. Current IAAF President Sebastian Coe has attempted to distance himself from the allegations levelled at the IAAF, despite the fact that he was Vice President from 2007-15, when all of the above was taking place.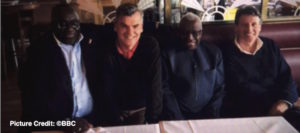 A picture tells a thousand words, so the saying goes. On the right, Coe is pictured with Papa, his father Lamine and the former Head of his office, Nick Davies – all of whom have been banned for life. Papa Massata Diack claims that the picture was taken on 21 September 2015. In a letter to the Digital, Culture, Media and Sport (DCMS) Committee of the UK Parliament, Coe states that he was 'not aware prior to December 2014 of the allegations that Papa Massata Diack/others associated with the IAAF were involved in covering up Russian doping'. In other words, on 21 September 2015 he knew that Papa Massata Diack was allegedly involved, yet he was still happy to be pictured with him and his father.
It appears odd that cautious Coe was prepared to be pictured with the Diacks, despite the allegations against them. Especially as he was so careful not to open or read the August 2014 email from David Bedford containing a written complaint from Russian distance runner Liliya Shobukhova's agent, Andrey Baranov, that athletics officials were attempting to export money from her in return for covering up a positive doping test.
France's PNF launched its investigation after being passed information by WADA in 2015, which led to the arrest of Lamine Diack. Coe, WADA's President Sir Craig Reedie and others have claimed that they were unaware of what was going on in Russia until ARD screened its documentary in December 2014. This means that they completely missed a July 2013 Mail on Sunday exposé, as well as questions sent directly to them by the journalists concerned. In addition, a memo (PDF below) sent by WADA to the IAAF Ethics Committee on 7 November shows that both the IAAF and WADA were acutely aware of the Russian situation. As such, how far the prosecutorial spider's web will stretch remains to be seen…