18th April 2019
PCC: Athletes are disarmed in proving they are 'clean'
Athletes lack the tools to prove that they are 'clean', heard delegates on the final day of the Partnership for Clean Competition's (PCC) 2019 Conference, despite anti-doping rules which consider them guilty unless they can prove they are innocent. Athletes also lack jurisprudence to defend themselves when accused of doping, due to provisions within the World Anti-Doping Code that require anti-doping rule violations (ADRVs) to be published, but not decisions that exonerate athletes. In anti-doping jurisprudence, the playing field is skewed against athletes.
In a fascinating keynote speech, Paula Radcliffe revealed her struggle with accusations she had cheated, as well as the dilemma she faced over whether to publish the rest of her Athlete Biological Passport (ABP) data, as it would prove little and force other athletes to do the same. "It's really important for athletes to have the right to prove that they are clean", she said. "And they don't have that right".
Delegates also heard that:
• The World Anti-Doping Agency (WADA), International Association of Athletics Federations (IAAF), and the International Olympic Committee (IOC) knew about what was going on in Russia prior to December 2014;
• The sanctioning system under the World Anti-Doping Code is not proportionate with regards to intent to cheat;
• Collective bargaining of anti-doping rules could work for team sports outside of the US, but would be difficult to implement across the Olympic movement;
• Proving lack of intent to dope is problematic, especially since the removal of the word 'cheat' from the World Anti-Doping Code.
Proving innocence
"Anti-doping is not black and white", pointed out Mike Morgan, a lawyer who acts for athletes in doping cases. "There is a lot of grey". One of these grey areas involves the Athlete Biological Passport (ABP), and misunderstanding of what blood values collected under it actually mean. 
The ABP was adopted by the International Association of Athletics Federations (IAAF) in 2009 and measures an individual's blood parameters over time to determine what is 'normal' and 'abnormal' for them. Once a data set has been built up, the idea is that sudden spikes in blood value areas may indicate doping. The IAAF collected blood values before 2009, which it monitored differently, in order to target test athletes who showed sudden spikes in certain values. 
In 2015, journalists used two experts to analyse a leaked blood database involving 12,000 blood tests performed by the IAAF from 2001-2012 in a documentary for ARD and an article published by The Sunday Times. The experts concluded that the blood tests could not be explained naturally and indicated widespread doping. One of the athletes implicated was Marathon World Record holder Paula Radcliffe.
One of the experts used by the journalists, Dr. Michael Ashenden, told the Culture, Media and Sport (CMS) Committee of the UK Parliament that it is "generally accepted" that blood values are indicative of doping when there is a one in 1,000 chance that such values could have come from a clean athlete. He explained that an 'offscore' is when an athlete shows lots of red blood cells, but there is no evidence that the increase in red blood cells has been produced by the bone marrow, so "it would appear" that the increase is unnatural.
He said that some of the blood values in the database had a one in 100,000 chance of occurring naturally, and that such values were dangerous. "The blood becomes so thick that the heart struggles to pump it around the body", he continued. "This is not so much a danger during exercise, when the body is warm, but when the athlete is asleep".
In pages 18-21 of a statement issued at the time, the IAAF used Radcliffe as an example of how an 'offscore' identified as suspicious can be explained by other factors such as altitude, or when and how the sample was taken. It argued that Radcliffe's first 'abnormal' offscore could be explained by the sample being taken during competition and following altitude training; her second 'abnormal' offscore was taken after finishing the 10,000m; and the third being due to altitude training. 
In a detailed statement, Michael Ashenden and Robin Parisotto, the two experts who analysed the data for the journalists, rebutted all of the IAAF's criticisms of their analysis. In another detailed statement, Radcliffe refuted allegations that her offscores indicated doping. However, such allegations still dog her four years later.
An argument has previously been put forward that since Radcliffe's data relates to before the IAAF adopted the ABP, it cannot be analysed using ABP parameters. Also, Radcliffe argues that it is useless to look at her data in isolation without comparison, and that would require other athletes to also release their data.
"The worst thing that I could ever be accused of, is cheating", she said after the PCC conference. "Because it is something I would never have done. It's just the hardest thing to combat. It's harder to come back from than injury, or disappointment, because you have been accused of something you would never do, but there are people out there who believe that you did. It is still the hardest thing that I have ever faced."
Radcliffe revealed that the allegations had caused her to engage the services of Dr. Steve Peters, a sports psychologist, who also counselled her children. She also outlined the dilemma she faced in whether she should release all her blood data in an attempt to refute the allegations, but pointed out that this would lead to further questions, and calls for other athletes to also release their data for comparative purposes.
"They shouldn't then have to release their data as a result", said Radcliffe. "It shouldn't be in the court of public opinion to then decide whether somebody is right or wrong, because they can get those decisions wrong. They got it wrong with me, and they shouldn't have that luxury of being able to get it wrong with other people. The only people who look at it should be the people that are fully qualified. 
"The pressure would then be on other athletes to release their data, to see how it stacks up. It doesn't really help me to just release my data. It would only help me if you released everybody else's data. I couldn't ask them to do that.
"I've spoken to many experts asking them why I can't release the data. They give me all the reasons why, because the questions will never stop, because there will always be something else. I still don't know whether it's the right decision. 
"At some point, perhaps for me, it might be better to just write a book and put them out there, the ones that I have, but then there will still be questions about values missing from certain dates, or tests on certain dates. There's nothing that I can say. We know that people can get around tests. We know that people can hide stuff. So I can't say, bang, there's the proof. And it would be brilliant to be able to do that."
Sport knew about Russia before 2014
A panel designed to examine meaningful anti-doping public relations and communications illustrated how sport's governing bodies knew about the Russian doping scandal prior to December 2014. This is significant because the Ethics Board of the IAAF has recently closed a case against its President, Sebastian Coe, concluding that 'there is no realistic prospect of establishing that Lord Coe knew more about the Shobukhova affair at the relevant time'.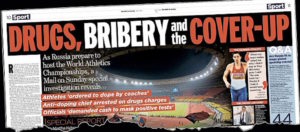 Martha Kelner made it clear that in July 2013, whilst working at the Mail on Sunday, she and Nick Harris told WADA, the IOC and the IAAF about Russian athletes, such as Liliya Shobukhova, being extorted for money in return for the covering up of positive tests. Sir Craig Reedie, President of WADA, told the UK Parliament's CMS Committee that he first became aware of the allegations in December 2014, as did Coe. Jack Robertson, WADA's former Chief Investigator, has said that he was forced to later leak information to the media in order to force WADA to act on the allegations first reported by Harris and Kelner.
Sanctions
The PCC Conference has already heard, on previous days, that sanctioning is a major issue. Under the Code there are many instances where athletes have reported negative tests, then report a trace, picogram, AAF for a substance that is known to turn up in medication or water. Travis Tygart, CEO of the US Anti-Doping Agency (USADA), pointed out that in such cases, anti-doping organisations (ADOs) are required to issue a sanction and publicise it, despite everyone involved knowing that there is no intention to cheat. "That's just a system that can't survive", he argued.
Adolpho Birch, Senior Vice President of Labour Policy and League Affairs with the National Football League (NFL), said that the focus on proving intent undermined athlete confidence in anti-doping. He explained that this is because wealthy athletes have more resources to mount a defence under such a system, whereas lower level athletes do not. This scenario has frequently played out in anti-doping jurisprudence, and leads to the perception that anti-doping rules are not evenly applied across the board.
Birch argued that it was easier and fairer to look at the amount detected in the sample, and set rules based around that. "However, if you take that approach, you have to accept that some cheaters are going to get through", he warned, advocating a system of graded sanctions based on game suspensions. 
However, it was pointed out that the US professional sports are team based. Whilst collective bargaining and game suspensions might also work in team sports outside of the US, such an approach would be harder to adopt for Olympic sports.
Dr. Despina Mavromati of SportLegis pointed out that proving lack of  intent is likely to be even harder if the 2021 Code draft is adopted without change. This is because the word 'cheat' has been removed from the definition of 'intent' set out in Article 10.2.3. This means that Panels at the Court of Arbitration for Sport (CAS) will no longer be able to rule that an ADRV is non-intentional because an athlete didn't intend to cheat, and will instead have to rely on the technical definition of intent.
A balance that needs correcting
The World Anti-Doping Code was built on the principle of strict liability and until relatively recently, most athletes assumed that a positive test indicated that an athlete had intentionally doped to win in sport. Thanks to education and the Russian State doping scandal raising the profile of anti-doping, that perception has changed. Many athletes now realise that upwards of 40% of adverse analytical findings (AAFs or positive tests) are unintended.
A positive test, or AAF, means that an athlete has tested positive for a substance considered prohibited. The reason that the word 'considered' is used is because thanks to the nebulous nature of the Prohibited List, athletes may not even be aware of the existence of the substance involved in their AAF. 
The term 'other substances with a similar chemical structure or similar biological effect(s)' is used four times on the List, in relation to Anabolic Agents; in relation to Peptide Hormones, Growth Factors, Related Substances, in relation to Mimetics; Diuretics and Masking Agents; and in relation to Stimulants. The List includes additional nebulous terms such as 'All selective and non-selective beta-2 agonists, including all optical isomers, are prohibited'. 
Anti-doping case law has involved contaminated tap water, contaminated meat, cancer medication accidentally dropped into food, contaminated medication, supplements and more. Checking the List will not ensure that an athlete cannot test positive. An argument often heard in anti-doping is 'if it's on the List, don't take it'. For the reasons highlighted above, this argument is completely redundant. Athletes cannot check the List.
However, a positive test (AAF) doesn't automatically equal an anti-doping rule violation (ADRV). An athlete may hold a therapeutic use exemption (TUE) for the substance involved. If not, then the AAF is still considered as an ADRV, even if the athlete meets the high burden of proving that they are not at fault. Even if the athlete is not aware of the substance involved. Even if it wasn't listed on the label of any supplements or medication they were taking.
Article 14.3.2 of the Code mandates that all ADRVs must be published. But Article 14.3.3 outlines that when it is determined that an athlete did not commit and ADRV, the decision 'may be publicly disclosed' with the consent of all involved. In practice, this means that athletes have no say in whether an ADRV is published when they lose a case, but ADOs do get a say in whether cases they lose are published.
In addition, the CAS doesn't publish all of its decisions, and some of the ones that find in favour of athletes, such as the Dutee Chand decision, are available in image format only. This makes an athlete's job additionally difficult when looking for jurisprudence to support a defence.
As highlighted today, athletes are completely disarmed when attempting to defend themselves against doping charge. This leads to mistrust in the anti-doping system. If those governing anti-doping can correct this imbalance, then perhaps athletes that find themselves in a similar situation to Radcliffe will, one day, be able to prove that they they are 'clean'.