Features
7 August 2017
Why life bans for doping will not work
On Sunday, Justin Gatlin was booed as he received his gold medal following his victory in the 100m final at the International Association of Athletics Federations (IAAF) London 2017 World Championships on Saturday. The reason? A common perception that the US athlete is a two-times drug cheat. As explained in this article, his first AAF was due to a prescription for Adderall to treat Attention Deficit Hyperactivity Disorder (ADHD). The second – for testosterone – he alleged was due to sabotage due to a dispute with a physician.
Whatever your view of Gatlin, a key point is that he has served his ban. However these facts have been lost in the vitriol of moral righteousness. Former athletes, the Jamaican Prime Minister and even IAAF President Sebastian Coe lined up to tell the media that life bans for doping should now be reconsidered.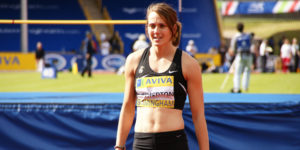 Public anger on the subject is understandable. Sport is an emotive subject, and Gatlin ruined what was supposed to be a victorious swansong for one of athletics' greatest characters, Usain Bolt. Athlete anger is also understandable. It is no wonder that many call for life bans for doping cheats. Jessica Ennis-Hill recently recently received her 2011 IAAF World Championships Heptathlon gold medal in a special ceremony at London 2017, after athletes who finished ahead of her were disqualified for doping. Many other athletes in a similar situation, such as Jo Pavey or Kelly Sotherton, would take the same position.
However, sporting bodies already know that life bans do not work, and in fact place them in a dangerous position. Doping is not as black and white as the general public, or most athletes, think. There are a number of reasons why.
1. Proving intentional doping
Proving intentional doping is notoriously difficult. The natural reaction of any athlete when confronted with an adverse analytical finding (AAF) is to deny doping. The Gatlin case illustrates this perfectly. His first AAF was back in 2001 for amphetamine, and an arbitration panel found that this was due to Adderall prescribed to treat ADHD. He was initially banned for two years, but reinstated by the IAAF two months later.
In 2006, he tested positive for exogenous testosterone, but claimed that the AAF had been caused by sabotage due to a financial disagreement with his physical therapist, who had rubbed a new product on his legs. A four-year ban was imposed, double the standard two-year ban in place at the time.
Only Gatlin knows if he intentionally doped. He denies doing so. No panel has ever found that he intentionally doped.
This difficulty in proving intent was why the World Anti-Doping Agency (WADA) abandoned the 'aggravating circumstances' provision within the 2009 World Anti-Doping Code that allowed the standard two-year ban to be scaled up to four years. The burden of proof in establishing 'aggravating circumstances' was so high that it was almost never used. Instead, the 2015 Code opted for a standard sanction of four years that could be reduced down if – for example – an athlete could prove that use of a substance was non-intentional.
In effect, the 2015 Code reversed the burden of proof from innocent until proven guilty. An athlete is now considered guilty unless they can prove that they are innocent. The same would presumably be true for any introduced life ban. This is dangerous to athletes.
The World Anti-Doping Code applies globally. For every Justin Gatlin, there are many athletes issued who do not benefit from the legal and financial resources he enjoys. Currently, athletes lower down the food chain in smaller countries are being sanctioned with a four-year bans with little prospect of reduction. For instance, in June, India's National Anti-Doping Agency (NADA) reportedly sanctioned 12 athletes with four year bans.
It is easy to take for granted how well-understood doping is in developed nations. Athletes often argue that athletes from less-developed countries benefit due to a lack of testing. The flip side of this is that issues such as supplement and food contamination are not as well understood, meaning that any athlete testing positive can be sanctioned with a four-year ban, irrespective of the circumstances of their case.
The IAAF and Sebastian Coe are aware of this. Although Coe may be feeling queasy about Gatlin's victory, the IAAF knows the circumstances of his case. It also knows that introducing life bans could create potential issues for smaller NADOs that do not have the resources to examine the details of every case.
2. Inadvertent doping
This leads us into the second issue. Not every athlete that is sanctioned for doping intends to cheat. Whether you believe him or not, Gatlin would argue that he falls into this bracket. For the same reasons that it is difficult to prove intentional doping, it is difficult to put an exact figure on the number of athletes sanctioned for doping who did not intend to cheat.
However, that doesn't stop NADOs from guessing. At Tacking Doping in Sport 2013, Athlete Ombudsman for the US Olympic Committee (USOC) John Ruger said that between 40% and 60% of US doping cases are inadvertent – i.e. non-intentional. Is it fair to issue them with a life ban?
There can be a number of reasons for inadvertent doping. The most common are contaminated supplements or food. As has been previously discussed on The Sports Integrity Initiative, many elite athletes take supplements. They also take medicines to recover from injury.
Elite athletes also travel. Not all supplements and medicines around the world are correctly labelled. The same goes for food, especially when an athlete is eating in a restaurant whilst travelling. Athletes are known to keep receipts to prove where they have eaten.
WADA has issued warnings regarding clenbuterol, which is still used in some countries to fatten cattle, despite being banned in the US since 1991 and by the European Union since 1996 – it has a Maximum Residue Limit (MRL) set by the same body. The US Anti-Doping Agency (USADA) has also accepted a defence that an athlete's contaminated water supply led to a doping positive.
In a very recent case, an athlete was able to compete at the USA Track & Field Outdoor Championships after an arbitration panel accepted his defence that an AAF for probenecid – a diuretic – was caused by kissing his girlfriend. Should he be banned for life?
3. Specified substances
For most of the substances on WADA's Prohibited List (except 'specified substances'), there is no excuse for the presence of a prohibited substance, however small. The public and the media would class cyclist Alberto Contador in the same 'doping cheat' bracket as Justin Gatlin, however the amount of clenbuterol found in his sample was 50pg/ml, 40 times less than the 2,000pg/ml that is generally felt to be needed to have an active effect on human physiology.
In other words, although science holds that the amount of clenbuterol in Contador's system could not have affected his performance, he was sanctioned with a two-year ban and lost his 2010 Tour de France title. Would it be fair to ban Contador for life for this offence?
Two triathletes argued that recent AAFs for ostarine were either due to use of salt tablets to aid rehydration, or due to drinks given out by race organisers. Again, both cases involved trace amounts. One athlete received a six-month ban and the other a two-year ban, despite both proving that their use was unintentional.
Scientific advances mean that ever-smaller amounts of substances can be detected in an athlete's sample. This means that this particular problem is likely to get worse, unless sensible thresholds are introduced.
It is also worth highlighting that the cases highlighted in the above two sections occurred in developed countries. Very few athletes from developing countries have been successful in proving inadvertent doping or contamination. A life ban would impact them rather than the Lance Armstrongs or Ben Johnsons.
4. The Prohibited List
The exact number of substances on WADA's Prohibited List cannot be stated. This is because nobody knows, including WADA. The reason for this is the way in which the List is written. For example, most athletes realise that anabolic androgenic steroids are prohibited, and the List names 42 of them.
However, at the end of Section S1 of the List, is also mentions that 'other substances with a similar chemical structure or similar biological effect(s)' are also banned. The same is also true of Section S2, S5, and S6.
The logic behind this is easy to see. If WADA didn't include these disclaimers, determined dopers would simply slightly change the chemical structure of the substance and claim that as it is not on the List, it is not prohibited. However, such disclaimers also create serious issues for athletes.
If not all prohibited substances feature on the List, an athlete purchasing a supplement cannot check its ingredients against the List. Methylhexaneamine is a stimulant featured on the Prohibited List. Should an athlete be expected to know that it has alternative names such as Forthane, Geranamine, 1,3-dimethylamylamine (1,3-DMAA) or dimethylamylamine (DMAA), which are not featured on the List? If they test positive and a supplement lists these ingredients but not methylhexaneamine, should we ban the athlete for life?

Late last year, UEFA and WADA were forced into an embarrassing climbdown after this issue came to a head. Analysis of footballer Mamadou Sakho's A sample revealed the presence of higenamine, a substance speculated to have fat-burning qualities. UEFA duly notified Sakho of an anti-doping violation, stating that Higenamine was banned at all times under the WADA Prohibited List, as a category S3, Beta-2 Agonist.
However, higenamine doesn't feature on the Prohibited List, and there is considerable speculation about whether it is a Beta-2 Agonist at all. As such, following great personal expense, Sakho was exonerated.
5. Getting it wrong
There is also the major problem that sometimes, anti-doping authorities get it completely wrong. Sometimes they also get it largely wrong, and sometimes a little bit wrong. To take a very recent example, the CAS recently overturned four-year bans issued to four footballers, after they were sanctioned for testing positive for SARM S-22.
Laboratory errors, whilst very uncommon, also do happen. Earlier this year, rugby player Patrick Tuipulotu was exonerated after his B sample showed no presence of a prohibited substance. In February, New Zealand Rugby was forced into revealing Tuipulotu's November 2016 AAF.
He was later exonerated, after legal assistance from  Mike Morgan and Lisa Jones of Morgan Sports Law. In a case that has remarkable similarities, Morgan Sports Law also represented cricketer Kusal Perera, who had a provisional suspension lifted after the Qatar laboratory withdrew its AAF, accepting that the cause of the AAF may have been naturally generated.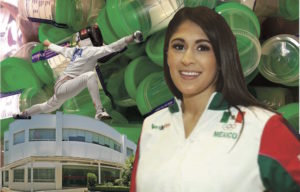 In another case that appears to involve a false AAF, WADA suspended the Mexican laboratory last year after Mexican fencer Paola Pliego missed the Rio 2016 Olympic Games. In both Pliego's and Tuipulotu's cases, the laboratory concerned has since been suspended by WADA.
In 2011, the CAS reduced a standard two-year ban issued to 12 year old cart racer Igor Walilko by the International Automobile Federation (FIA) to 18 months. Walilko was sanctioned for consuming nikethamide, which was understood to have originated in an energy bar he consumed.
There was no question that Walilko was guilty. 'It is each athlete's personal duty to ensure that no Prohibited Substance enters his or her body', reads Article 2.1 of the Code. 'Athletes are responsible for any Prohibited Substance or its Metabolites or Markers found to be present in their Samples. Accordingly, it is not necessary that intent, fault, negligence or knowing use on the athlete's part be demonstrated in order to establish an anti-doping rule violation under Article 2.1'. Should sport be subjecting 12 year old children to a life ban from sport?
6. Meldonium
Meldonium, mildronate (brand), or мельдоний (Russian), could possibly fall under the previous section. Having justified its inclusion on the 2016 List due to evidence of widespread use in Eastern Europe, WADA then failed to sufficiently notify athletes in Eastern European countries that it had been included on the List.
There was also a lack of science on WADA's part supporting its decision to include it on the List. Incorrect data on excretion times meant that many athletes who had stopped taking the drug before it became prohibited were sanctioned. There were questions about the accuracy of the research behind WADA's decision to put meldonium on the List.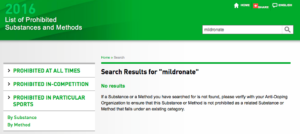 WADA has since removed the 'search' function from its Prohibited List section, but finding the brand name 'mildronate' was impossible even in English – a search for the brand name turned up no results. Only athletes searching for the active chemical ingredient in English, meldonium, would have been presented with a result by WADA's own search system, which is not available in Russian.
Hundreds of Eastern European athletes tested positive for the drug after the 2016 List came into effect. The whole debacle is set out in this article and, coupled with an IOC requirement to ban Russian athletes convicted of an ADRV from the Rio 2016 Olympics, created absolute chaos. It is suffice to say that lifetime bans would not have made this situation any easier.
Conclusion
It is telling that Coe referred to Justin Gatlin as "Gatlin" in an interview on BBC Sportsweek, whilst referring to Usain Bolt as "Usain". The public and athletes can be forgiven for getting caught up in the emotion of a historic event such as Usain Bolt's last race. But sport's governing bodies ought to know better.
They know that under the current system, life bans are unenforceable. Take some of the cases above. Imagine, for a moment, that a life ban is in place for a first doping offence.
WADA would be facing a costly legal battle against five wealthy footballers. It would also have banned a 12 year old boy for life. Excluded a fencer from the Olympics for life. Thrown an All-Black out of sport for life due to substance classification errors. WADA could also be facing legal action from many disgruntled Eastern European athletes excluded for meldonium AAFs, and the federations that were forced to ban them. WADA simply does not have the financial resources to fight such battles, especially when its regulatory system is built on shaky ground, as the above cases illustrate.
The sporting system currently relies on the Athlete Agreement, which forces athletes to take cases to the CAS, and prevents recourse to an ordinary court of law. The CAS is funded by the Olympic movement, which is in charge of appointing its arbitrators.
Sport relies on the fact that very few athletes will put aside their careers to contest a ban. Most will accept a two year ban and some will even accept a four year ban, if they are young enough to be able to be competitive on return to competition. If a life ban is implemented, this will change. Also, it will remove all incentive for athletes to cooperate with anti-doping authorities investigating who is behind supplying prohibited substances to athletes.
If John Ruger is correct in his analysis, and between 40%-60% of doping cases are inadvertent, can we really expect inadvertent dopers to accept a lifetime ban? The revenues of many sporting leagues now eclipse the Gross Domestic Products (GDPs) of many countries. The annual wage of the world's richest football now eclipses WADA's entire annual budget.
Most elite athletes would argue that the will to compete overrides such riches. Can we really expect athletes who have inadvertently doped, but cannot prove it, to have this all taken away by a court that is financed and staffed by sport? Especially when certain areas of the rules are so vague and imprecise?
As Kristen Worley's case highlighted, sport fears such cases making it into the civil courts, where athletes could sue. Why would it make a move that is likely to usher such an era into place even faster than it is already happening?
Sport should not be courting the possibility of revisiting the life ban debate, as to do so once again deflects attention away from their own failures back onto the athlete in the form of the media-friendly judas, the 'doping cheat'. Sport is playing to public and media hype, which is distracting attention away from the real issues it faces. And yet again, should such a plan come to fruition, it will be athletes that suffer through sport's inadequate regulation.