26th March 2021
Athletes call for overhaul of anti-doping system
Athletes have called for a complete overhaul of the anti-doping system through a submission that falls outside of the World Anti-Doping Agency's (WADA) Governance Reform Survey, the completion deadline for which is today. 'The selection of questions and the ability to pick and choose responses that may serve a certain narrative/bias may not result in robust and meaningful change for a stronger more independent WADA that has the public and the athlete's trust', reads the submission. 'As a result, instead of answering individual questions the below represents a conceptual framework for WADA to achieve independence. The objective is to challenge the status quo and avoid superficial and ineffective changes.'
Current governance structure
WADA is 50% funded by public authorities and 50% funded the sports movement. However, the public authorities must approve any funding changes which are then matched by the sports movement. This is convenient for sport, as it cannot be blamed when WADA fails to secure new funding.
WADA is governed by the Foundation Board which appoints its Executive Committee. The 38 member Foundation Board consists of 18 members appointed by the Olympic Movement; 18 members appointed by the public authorities; plus the WADA President and Vice President. 
The WADA Statutes spell out that only the Foundation Board can propose amendments to the Statutes; that it appoints the auditing body of the Foundation; that it appoints the Executive Committee; and that it takes all decisions regarding real estate. However, as the most recently published meeting minutes from November 2019 reveal, it often discusses issues far beyond this remit. The Executive Committee is responsible for all other decisions relating to the management and running of WADA.
The Foundation Board appoints ten of the 12 members of the Executive Committee, which also features two 'independent' members and the WADA President and Vice President. The reason that the 'independent' members are in parentheses is that one is proposed by the Olympic Movement and the other by the public authorities.
Five of the 14 WADA Executive Committee members are also IOC Members, and four of them also sit on WADA's Foundation Board. Under the Olympic Charter, IOC Members have to pledge their loyalty to the IOC (see right).
Board changes
The athletes propose a complete separation of powers, including a fully independent and expert Executive Committee. Their position is that WADA shouldn't be governed by anybody who has a stake in the economics of sporting competition, as this represents a conflict of interest. They also argue that athletes should make up an equal proportion of the Foundation Board alongside the existing public authority and sports movement members, as should national anti-doping organisations (NADOs).
'Members of the Executive Committee and Foundation Board do not vote or act as individuals', reads their submission. 'The Sports Movement in advance of meetings submit formal positions on topics for discussion/decision. They also organise pre-meetings to strategise how to achieve these common positions. This approach results in block voting and is generally not in the interest of WADA but rather to protect the sport movement. 
'The Governments also have pre-meetings to determine common positions. While governments are less likely to have a common position, block voting does occur to protect member states and decisions are generally not in the interest of WADA, but rather to protect their members.'
They propose that Executive Committee members must meet strict independence criteria to avoid decisions being made for political reasons. 'The decision (of lack of) on Russia and the minimsing of the Athlete Charter are a few examples, among other decisions, that were not in the interest of clean sport but rather in the interest of protecting stakeholders', reads its submission.
Another example highlighted earlier this week by Travis Tygart, CEO of the US Anti-Doping Agency (USADA), is the removal at the last minute of a provision that would have made IOC Members liable to sanctions under the 2021 World Anti-Doping Code. As reported by The Sports Integrity Initiative, this occurred at the November 2019 World Conference on Doping in Sport in Poland, where the 2021 Code was finalised.
Court of Arbitration for Sport (CAS)
Any athlete who participates in elite sport know that the athlete agreement, often signed with a national federation, specifies that athletes must agree to keep disputes outside of courts of law and agree to arbitrate any issues at the Court of Arbitration for Sport (CAS), whose decision is final. The athletes are also critical of the CAS regarding its lack of independence from sport.
'CAS needs review as there are serious questions about the independence of CAS which is overseen by an IOC Vice-President, funded entirely by the IOC and is secretive in the process of appointing members', reads the submission. 'Further, members have no terms and are subject to removal at any time. For most athletes the costs of appealing to CAS does not make it accessible and provides very little support for an athlete's right to a fair and open hearing. Legal aid offered by CAS is restrictive and conducted in a manner that once again leaves athletes in a powerless position.'
Standing Committees
The athletes also take aim at WADA's five Standing Committees – the Athlete Committee; Compliance Review Committee (CRC); Education Committee; Finance and Administration Committee; and Health, Medical and Research Committee. They argue that with a properly constituted independent and expert Executive Committee that consults with sport's stakeholders, such Committees may not be needed. Athletes also argued that the CRC – if it continues to exist – should not contain stakeholders in sport.
'In most cases standing committees' outcomes are swayed heavily by WADA management', reads the submission. 'Standing committee members are nominated by stakeholders. This also results in selective selection by Directors, the Director General and President, and are predominantly "rubber stamped" by the Executive Committee and Foundation Board […] Many committee members lack expertise and interest to be on these committees and see such an appointment as a perk for business class travel to other cities, five-star hotels and per diems.'
The Athlete Committee is also criticised for representing WADA rather than athletes. Its Terms of Reference outline that it reports to the WADA Executive Committee and Foundation Board. 'Athletes on this committee have tried to speak up against decisions they disagree with and are silenced or pressured into silence', reads the submission, perhaps referring to the experience of Beckie Scott and Ed Moses.
Time for change?
WADA celebrated its 20th anniversary in 2019, yet its governance structure has changed little since its formation in 1999. Governments were never supposed to be involved, nor athletes.
WADA was initially conceived as a subsidiary of the IOC. However, at the 1999 World Conference on Doping in Sport, governments were understood to be unimpressed with the IOC's efforts to keep drugs out of sport after the 1998 Tour de France doping scandal. As the governments had insisted on influence over WADA that was independent of the IOC, the current structure was agreed.
This allows the sporting movement to control WADA, whilst giving public authorities the perception that they have an equal say. As the athletes highlight in their submission they don't, and neither do the athletes. The sporting movement still controls WADA's decision making.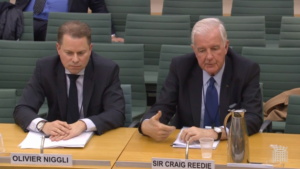 When a governance crisis hits sport, such as the bombshell revelation that officials were extorting money from athletes for covering up positive doping tests, a strong, independent organisation is needed to discover who knew about what was going on and when. Sir Craig Reedie and Olivier Niggli, former President and current Director General of WADA, told a UK Parliament Select Committee that Reedie didn't become aware of what was going on in Russia until December 2014. A 7 November memo from Reedie (PDF below or click here) and co-signed by Niggli confirms that both had full and detailed knowledge of what was going on.
Sebastian Coe was Vice President of the International Association of Athletics Federations (IAAF – now World Athletics) from 2007. He told a Select Committee of the UK Parliament that he didn't know about what was going on in Russia prior to December 2014, despite the alleged involvement of former IAAF President Lamine Diack, his son, and many others involved in IAAF management including the former Director of his office, Nick Davies, who is now banned for life.
Coe argued that he didn't read an email from David Bedford sent in August 2014 outlining the allegations in detail. However when questioned by the same Select Committee, he also denied ever having promised the 214 IAAF member federations US$100,000 each should he take over from Lamine Diack as IAAF President. 
However, a press release issued through Coe's Presidential campaign website on 24 July 2015 – since deleted – did specifically promise this, as this Athletics Weekly article and the screenshot on the right corroborate. Both Reedie and Coe also apparently missed a July 2013 exposé in the Mail on Sunday, which also outlined the Russian allegations in detail. 
There is no suggestion that either Reedie or Coe were involved in what was going on. The IAAF closed its case against Coe in April 2019. Although evidence exists that WADA knew what was going in Russia as far back as 2010, it has never investigated when Reedie and Niggli became aware.
As in 1999, the sporting movement had again failed to keep drugs out of sport in a major way that undoubtably involved senior sporting officials. Sport failed to fully investigate which sporting officials knew what was going on in Russia, and when. This led to suspicion that sport was managing the situation rather than tackling it, which intensified when Russia was dubiously reinstated in 2018. Had WADA been independent from sport at this point, this suspicion could have been tempered.
Under the heading 'Integrity' at the top of the Core Values statement on WADA's internet site is the following:
• We protect the rights of all athletes in relation to anti-doping, contributing to the integrity in sport.
• We observe the highest ethical standards and avoid improper influences or conflicts of interests that would undermine our independent and unbiased judgement.
• We develop policies, procedures and practices that reflect justice, equity and integrity.
Athletes have argued that their concerns about Russia were sidelined, belittled, and ignored. Their submission highlights in detail the conflicts of interest that WADA's governance structure enshrines. The sporting movement's interference in policies that would have provided athletes with greater rights and would have held IOC Members to the same standards as athletes hardly reflects 'justice, equality and integrity'.
At the Sport Resolutions virtual conference this week, Brett Clothier of the Athletics Integrity Unit (AIU) spoke about how independent integrity bodies are crucial to athlete and public confidence in sport. He spoke about how it was a "battle" to convince sport that it was in their interest to invest in such bodies. 
This is the same model proposed by the athletes for WADA. It is perhaps time that it stops fighting a battle, and listens to the athletes it purports to serve.