13 July 2020
Yuri Ganus denies misappropriation of RUSADA funds
Yuri Ganus (Ю́рий Га́нус), Director General of the Russian Anti-Doping Agency (RUSADA), has denied allegations that he misappropriated the agency's funds, after Russian news agencies reported allegations made via social media. In a media conference on Friday (video below – in Russian followed by English), Ganus said that the allegations are false and are part of a campaign to discredit him that began last year.
It is alleged that law enforcement has uncovered RUB110 million (€1.4 million) in embezzlement – RUB57 million in 2018 and RUB53 million in 2019, reports weekly newspaper Argumenti. "They talk about 57 million and 53 million that could be attributed to me", replies Ganus in the above video. "The author does not fully understand that business processes are organised in an anti-corruption manner at RUSADA. There is no single person that can manage funds. 
"I, as Director General, do not have access to transfers, accounts, payments. Accountants cannot transfer funds until I confirm the code necessary for the transaction. There are several employees of RUSADA that confirm every single transaction."
It was also alleged that the falsification of Ganus's signature had been established. "This is a lie", argues Ganus. "We have a procedure regarding documentation, and every transaction has to be confirmed by several signatures".
It was also alleged that RUSADA tendered contracts to relatives of Ganus. "This is a lie", argues Ganus. "We have a certain procedure regarding document circulation and once again, every transaction has to be confirmed by several signatures […] We have a certain procedure for all procurement and even if it doesn't involve a tender, we always consider alternatives when we select a contractor.
"In addition, once the contract reaches a specific amount, another procedure comes into play […] When it comes to transactions higher than RUB20 million (€249,200), then the procedure is controlled by the Supervisory Board." 
It was also alleged that RUB11.3 million (€126,800) was spent on taxi fares and RUB2 million (€25,000) was spent on English classes over the last two years. "I asked our accountant to provide me with a reference certificate stating how much was spent on taxi services in Russia and abroad", says Ganus. "In 2018, in Russia, RUB96,188 (€1,079) was spent on taxi services. In 2019, RUB207,863 (€2,332.5) was spent.
"In 2018, my spending on taxis abroad was RUB8,216 (€92). In 2019, RUB75,940.52 (€852) was spent on taxis abroad. If you combine all those amounts, then the total is many times less than RUB11.3 million."
Ganus confirmed that he did learn English through the Freedom of Speech school, but denied that this was to learn English from scratch. He pointed out that he couldn't attend classes, due to work commitments and his international travel schedule.
Postpravda
It the above video, Ganus refers to the fact that the allegations were made via a group entitled Postpravda on Telegram Messenger. This translates as 'post truth'. He alleges that this is evidence that those making the allegations are not concerned with the truth.
There is no evidence that law enforcement is building a case against Ganus. However it is a common policy of law enforcement agencies not  to comment on investigations unless there is a case to answer. 
What we do know is that RUSADA receives funding directly from Russia's Ministry of Finance. Its Annual Report doesn't reveal massive expenditure increases in in any areas apart from 'international cooperation', the costs of which doubled between 2018 and 2019 (see right).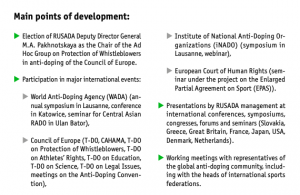 The Annual Report details attendance at several major anti-doping events that may explain this increase (see right). In addition, RUSADA couldn't attend international events for the majority of 2018, as it was only reinstated as complaint with the World Anti-Doping Code in September of that year. Therefore costs in this area are bound to increase dramatically.
In the above video, Ganus highlights that approval must be sought from the Supervisory Board for any contract worth more than €250,000. That Supervisory Board includes Andrew Minyaev (Андрей Миняев), Director of the Legal Department for the Ministry of Sport; a member of the Russian Ministry of Economic Development; a medical scientist; the Head of the Sports Conventions Division of the Council of Europe; athlete Yelena Isinbayeva; a cosmonaut; and the Secretary General of the Russian Paralympic Committee (RPC).
Ganus and his deputy, Margarita Pakhnotskaya (Маргарита Пахноцкая), are not members of the Supervisory Board. Therefore, if there were any corruption involving Ganus, it would have to involve amounts below €250,000.
However, it is significant that two Russian governmental ministries – including the Ministry of Sport – have a hand in approving any spending of Ministry of Finance funds by RUSADA that exceed €250,000. In December last year, the World Anti-Doping Agency (WADA) suspended RUSADA's compliance with the World Anti-Doping Code for a four year period, as retaliation for manipulations discovered in the Moscow Laboratory Information Management System (LIMS). The Compliance Review Committee (CRC) of WADA outlined that WADA must be satisfied that RUSADA remains free from outside influence for the entire four year period for it to be reinstated (see above right). This potential block on any spending greater than €250,000 would appear – on the face of it – to contravene that requirement.
If – as Ganus alleges – there is a campaign to discredit him, who is running it and why? RUSADA is funded by a Russian State agency and two State agencies have a hand in approving any spending greater than €250,000. Is a replacement being lined up by the State?
It could also be possible that positioning Ganus as fighting for an independent RUSADA and against attempts to discredit him would suit the Russian State. It would allow it to claim that RUSADA is operating independently – important given RUSADA's appeal to the Court of Arbitration for Sport (CAS) against WADA's sanction – whilst retaining control over important decisions. If this is accurate, then the requirement of WADA's CRC for RUSADA to demonstrate its independence over four years seems sensible.