8 April 2022
The SII Anti-Doping Monitor – week ending 8 April 2022
Fourteen athletes from seven countries, competing in eight sports, have been involved in anti-doping proceedings that came to light this week. A case involving a Russian cyclist has really thrown the cat among the pigeons. The defence team for Natalia Studenikina (Наталье Студеникиной) managed to convince the Russian Anti-Doping Agency (RUSADA) that athletes who consume meat or milk from livestock treated with Emidonol, a veterinary drug used only in Russia, can return a positive test (adverse analytical finding – AAF) for meldonium.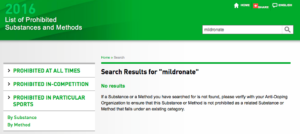 In 2016, meldonium was added to the World Anti-Doping Agency's (WADA) Prohibited List in a controversial manner, ahead of the Rio 2016 Olympics. Meldonium (мельдоний) was included on the Russia's Vital and Essential Drugs List, 2012, as supplied to the World Health Organisation (WHO), and was available over the counter in Russia. Yet WADA didn't publish the Prohibited List in Russian at that time, and none of WADA's literature at that time mentioned Mildronate (Милдронат) – the main brand of meldonium in Russia.
WADA's testing figures show that this led to 515 AAFs during the Olympic year, the majority of which involved Russian athletes. Many more have been sanctioned since then. 
Russian Lawyer Artem Patsev told Sport Express that Emidonol was bought and used it on poultry and cows. Milk was taken from the cows and meat from the poultry was analysed, and Patsev said that all reported concentrations of meldonium. A Study published by Kuban State University in 2020 found that cows and chickens treated with Emidonol reported concentrations of meldonium in milk and meat.
It is understood that a further Study was commissioned to examine if meldonium residues in milk could cause an athlete to return an AAF. This Study involved three volunteers and milk spiked with meldonium, rather than milk excreted from an animal that had been treated with Emidonol. It concluded that the currently applicable threshold level of 100ng/mL in urine for meldonium was not exceeded by consuming 100mL of meldonium spiked milk. However, it found that consuming larger quantities of milk created the 'realistic scenario' of an AAF.
RUSADA accepted that this evidence was strong enough that Studenikina should only be issued with a warning, which is still considered an anti-doping rule violation (ADRV). However, as this case has the potential for many athletes sanctioned for an ADRV involving meldonium to ask for their case to be reconsidered, whether WADA agrees remains to be seen. 
As with all anti-doping cases, a WADA appeal is possible. The Athletics Integrity Unit (AIU) was very critical of Artem Patsev's role in the Danil Lysenko case (see right).
Questions also remain regarding another RUSADA Decision issued this week, which was short on detail. RUSADA reported that the Court of Arbitration for Sport (CAS) had 'reversed' a Decision to ban Andrey Belokon (Андреем Белоконем) for two years, sanctioning him with a four year ban from 25 May last year. However, the Russian Athletics Federation (RusAF) initially sanctioned Belokon with a two year ban that expired on 31 July 2020.
No Decision has been published on the CAS website. The Sports Integrity Initiative has asked it to clarify the situation.
The Anti-Doping Agency of Kenya (ADAK) and Athletics Kenya were also stuck a blow this week. The CAS upheld an appeal from World Athletics against against a Decision of ADAK's Sports Dispute Tribunal (SDT) to dismiss a case against Joyce Chepkirui, which had accepted her explanation that abnormalities in her Athlete Biological Passport (ABP) were due to medication and her diet. 'The athlete has failed to prove by a balance of probability that the abnormal values in her ABP resulted from vaginal bleeding following hormonal imbalance, the use of various medications or an iron-rich diet', reads the Decision. 
Chepkirui, who won Gold in the 10,000m at the Glasgow 2014 Commonwealth Games, was supported in her defence at CAS by ADAK and Athletics Kenya. There have been doubts about whether Kenya is serious about tackling allegations of doping that have plagued the country for over ten years. This culminated in questionable charges issued against a whistleblower in April 2021. ADAK and Athletics Kenya's support of Chepkirui at CAS would appear to add credence to these theories.
Please continue to send any cases we may have missed or suggestions through to our editor by clicking here. Also, if you're an athlete, national anti-doping organisation (NADO) or other Results Management Authority and you'd like us to cover a case that you're involved with, please get in touch! Also – a reminder. The SII Anti-Doping Monitor only features confirmed AAFs ('positive tests') or confirmed anti-doping rule violations (ADRVs).
Decision links
Igor Marcondes (Statement & Decision);
Elizaveta Demina (Statement & Decision);
Pedro Severino (MLB Statement & Player Statement)
Andrey Belokon (RUSADA Statement & initial 2020 RusAF Decision);