8th July 2021
Russian rowing federation to investigate meldonium positives
The Russian rowing federation (FGSR) has requested the opening of the B samples of two rowers, after they were excluded from the Russian Olympic team after returning adverse analytical findings (AAFs – or 'positive tests') for meldonium at a 17 June training camp in Greece. Stanislav Pozdnyakov (Станислав Поздняков), President of the Russian Olympic Committee (ROC), told State news agency TASS that Nikita Morgachev (Никиты Моргачева) and Pavel Sorin (Павла Сорина) had been excluded from the team as a result of the AAFs. Morgachev and Sorin have been replaced by Nikita Eskin (Никита Еськин) and Alexander Matveev (Александр Матвеев).
"Morgachev has been involved with rowing for more than a quarter of a century, for him this is the fifth Olympiad", Alexey Svirin (Алексей Свирин), President of the Russian rowing federation (FGSR) told RIA Novosti. "It is difficult to find a more sensible and responsible person […] Nikita has the standard of attitude to his work and the rules that must be observed in sport. After they won the Olympic license, Nikita had a clean test, and 20 days later a test turned out to be positive. We will investigate this story as deeply as possible and understand where it (meldonium) came from."
In 2018, the Russian Anti-Doping Agency (RUSADA) dropped doping charges levelled at seven youth hockey players following AAFs for meldonium. It found that they had been deliberately given supplements containing meldonium by a third party. 
In 2016, the addition of the drug to the World Anti-Doping Agency's (WADA) Prohibited List caused widespread chaos in Russia and Eastern Europe, ahead of the Rio 2016 Olympics. The anti-ischemic was added to the List following questionable research commissioned by the US-funded Partnership for Clean Competition (PCC), shortly before it signed a partnership with WADA.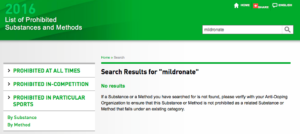 Meldonium's addition to the List was not publicised in Russian, and searches for mildronate, the major brand of meldonium available over the counter in Russia, returned no results on WADA's own system. Meldonium featured on Russia's 2012 List of essential medications as provided to the World Health Organisation (WHO).
In March 2016, Maria Sharapova became the most famous of many Russian athletes to test positive for meldonium. She had been taking the drug for ten years after being prescribed it in 2006, and her advisers claimed that they didn't know it had been prohibited. She was sanctioned with a 15 month ban, expiring 26 April 2017.