11th April 2019
PCC Conference: using science to equip anti-doping for future challenges
On 16-18 April, for the first time ever, the Partnership for Clean Competition (PCC) will bring the fifth edition of its biennial conference to London. The event includes heavyweight speakers from the world of anti-doping, including former CEO of the World Anti-Doping Agency (WADA) David Howman, who now heads the Athletics Integrity Unit (AIU) of the International Association of Athletics Federations (IAAF); David Cowan of the Drug Control Centre at Kings College, London (i.e. the UK's anti-doping Laboratory); Travis Tygart, CEO of the US Anti-Doping Agency (USADA); athletes including Kara Goucher; Beckie Scott, Ali Jawad, and Callum Skinner; plus too many more to mention (see below for a full programme). It involves three tracks: analytical science; social science; and legal issues.
Unless you are actively involved in anti-doping, you may not have heard of the PCC before. It is a US-based organisation founded in 2008 by the north American professional sports leagues – Major League Baseball (MLB), the National Football League (NFL), as well as the US Olympic movement (USOC), and USADA. Since 2008, it has added the National Hockey League (NHL) and the PGA Tour, as well as a sample collection company, Comprehensive Drug Testing Incorporated, which is involved with sample collection.
The US professional sports leagues are not signatories to the World Anti-Doping Code (more on why that is later), but US athletes compete in international events subject to the Code, such as the Olympics. As such, the PCC was founded on the basis that proper anti-doping research is needed to support anti-doping policies that apply to not only sports whose governing bodies are signatories to the Code, but those that are not Code signatories as well. 
"The idea was that anti-doping research is a critical component of any anti-doping policy", explains Michael Pearlmutter, CEO of the PCC. "But anti-doping research is very expensive to conduct. Pooling their money together was therefore a good investment in moving the anti-doping movement forward. We have funded more than $24 million dollars in anti-doping research – so more than 170 projects involving over 90 researchers in 17 countries all over the world.
"Everybody thinks of us as a US-based organisation, but we fund research all over the world. Including in the UK, which I believe is our second most funded location, after the US. This is part of the reason that we are going there for our conference."
Science
As its List of funded projects perhaps illustrates, the PCC's focus was strictly on analytical science until this year, when it has branched out into funding social science research. The 2017 year was the first in which the PCC funded more research outside the US than inside.
"We funded work on increasing detection and deterrence involving a number of substances; from different detection methods for anabolic steroids, to EPO, to growth hormone", explains Pearlmutter. "So, basically, everything that's a problem in anti-doping, we start with the problem and we try and address it.
"In 2019, we have also added social science funding to our priorities, because doping and anti-doping is a much more holistic thing than analytical science. We acknowledge the value of social science and we have tried to incorporate it into our funding.
"Sue Backhouse at Leeds Beckett University is a Strategic Partner in our conference. Traditionally, we have not included social scientists, as it simply wasn't our area of expertise. This time, we have partnered with Leeds Beckett to include a social science track. Sue and Kelsey [Erickson] have really been helping us get up to speed on the most topical and timely social science issues."
As a science-based organisation, it is perhaps inevitable that the PCC makes recommendations to WADA about substances that should be added to the ever-growing Prohibited List. "All of the recommendations that we've made to WADA about things that should be on the Prohibited List are based on science – our area of expertise", explains Pearlmutter. "Not policy. So we do not say, for example, that baseball would like a substance added to the List. We say that doctor Cowan has done some research which indicates that a specific substance has been abused by athletes, provides performance enhancement, and has health and safety issues for athletes, so we would recommend that substance is added to the Prohibited List."
Elephant in the room – meldonium
This brings us to meldonium. In 2015, the year before the Rio Olympics, the over-the-counter drug, which is used widely within Russia and Eastern Europe, was added to WADA's Prohibited List. In 2016, we reported how its addition to the List was based on research commissioned by the PCC, which suggested a 'growing body of evidence (black market products and athletes' statements) concerning its misuse in sport'.
As detailed in our article, there are serious, legitimate, concerns about the manner in which meldonium was added to the Prohibited List. Many of these were raised by lawyers after tennis superstar Maria Sharapova tested positive for the substance, which she argued she had been taking since 2006 to combat legitimate health concerns. 
Meldonium (мельдоний) was included on Russia's Vital and Essential Drugs List, 2012, as supplied to the World Health Organisation (WHO), which is designed to increase accessibility in the general population to essential medications for health maintenance purposes. It is registered for public use in Latvia, Russia, Ukraine, Georgia, Kazakhstan, Azerbaijan, Belarus, Uzbekistan, Moldova, and Kyrgyzstan. In Russia alone, between 30 and 40 million mildronate capsules were taken each year, with sales of over 2.3 billion Russian rubles (€33.3 million) in 2008.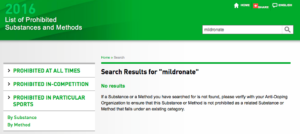 Given that meldonium is largely used in eastern Europe and is largely known through the local names for the Grindeks brand mildronate (Russian = Милдронат), it is perhaps no surprise that so many eastern European athletes were caught out by its inclusion on the 2016 Prohibited List. At the time, it was not possible to find 'mildronate' using WADA's List search engine even in English – and it was not available in Russian. 
Meldonium is not approved for use in the US by the Food and Drug Administration (FDA) or by the European Medicines Agency (EMA), which lists medicines approved for use in the EU. So the chances of US or EU athletes testing positive for it are small. There was uncertainty over the research that backed its inclusion on the list, uncertainty over the excretion times for the substance, and uncertainty over whether it enhanced athletic performance at all. Given the above, athletes from Russia and other eastern European countries could perhaps be forgiven for smelling a conspiracy, engineered by the US, designed to keep their athletes out of the Rio 2016 Olympics.
Pearlmutter is keen to play such allegations down, and states that the studies that the PCC funded were "good science". He also added that the studies that the PCC commissioned into meldonium, which led to its addition to the List, cost less than US$100,000.  
"It is another example of a situation that could have been handled better", he said. "There could have been better coordination between the research needs of WADA and our researchers. I do stand by the research that was done by PCC-funded researchers. 
"Our effort is always to protect clean athletes. We received word from athletes that it was being abused to gain an unfair advantage in sport. It's necessary for us to carry out due diligence, and all the studies suggested that it was being significantly abused by athletes – specifically athletes from Russia and Eastern Bloc countries. 
"I think that the excretion studies should have been done before it was added to the Prohibited List. They were done afterwards, and that created a problem for harmonisation of the penalties, specifically. That's why a lot of the athletes had their penalties vacated.
"If the communication between our organisations and the athletes had been better, I think that this would have been a tremendous success for the protection of clean athletes. Instead, I think that it's pretty clear that it wasn't. 
"Anti-doping is an interesting space. It's driven by the number of athletes or the 'significance' of the athletes that test positive for a specific substance. So you can spend a lot of money on research, and if nobody 'big' tests positive, you never really get asked about it. We spent less than $100,000 on meldonium research, and Maria Sharapova and others mean that we get asked questions about it all the time."
However, there is a reason for this. The PCC-commissioned research which claimed that the drug had a performance-enhancing effect. The footnoted evidence for the drug's performance-enhancing properties within that research was based on a 2002 Study, which Sharapova's defence team argued was flawed. This was because the seven judoka taking mildronate were seven years older and 23kg heavier than the group not taking mildronate. 
The second piece of evidence indicating a performance enhancing effect within the PCC's research appears to be a one page Study conducted as part of a Lithuanian sports science conference in 2012, which references the first Study (the link is here, but it has been taken down). Critics argue that due to the issues highlighted above the PCC's claim that meldonium is performance enhancing does not stand up to scientific scrutiny. In other words, they argue that it is bad science.
Difficult questions
Pearlmutter is keen to stress that the reason that the PCC organises its biennial conference is so that elephants in the room, such as the one outlined above, can be discussed. "We don't want to have a conference that is tone deaf to the current issues in anti-doping", he outlines. "We understand that a lot of the solutions come out of difficult conversations. We know that we need everybody at the table, and that includes athletes, scientists, social scientists, Laboratory Directors, administrators, and we invite them all to be part of this dialogue, as part of our conference. 
"It will be uncomfortable. People will ask really difficult questions, but people will get candid answers from different perspectives."
As such, the PCC's conference will be the biggest in the organisation's history. It will also involve a tour of the Drug Control Centre at Kings College, London. "There are so many people in anti-doping that have never seen the inside of an accredited Lab", states Pearlmutter. "It's a tremendous opportunity in addition to the programming. As for the programming, we bill ourselves as providing candid, solutions-focussed topics and conversation, which differentiates us from some of the other anti-doping conferences that are more bureaucratic and political."
Athlete voice
One of the different perspectives in anti-doping that has been ignored for far too long is the athlete voice. At the WADA Symposium, it was encouraging to see athletes pushing for fair reforms to the World Anti-Doping Code that are long overdue. Pearlmutter agrees. 
"I think that it's a great thing for anti-doping. Everybody needs to be involved in the conversation, especially those who are most affected. We're in this to protect clean athletes. What would be a better community to ask about how to conduct a policy that is most effective at protecting clean athletes and the integrity of sport than the people who are providing samples on the field of play and after competition?
"We cannot take credit for that. The athletes started to come forward themselves, and say that they had specific criteria about how the integrity of their sports are maintained. Their criteria are really high. We saw this in baseball with one of our sponsors. A big reason as to why baseball has one of the best programmes in the world is because the athletes stepped forward and said that they wanted to protect the integrity of the game.
"Athletes like Beckie, Kara, Ali, and Callum are doing great work in talking about what a great anti-doping programme should look like. This is the only way in which the conversation can move forward. If it just involves policy makers who haven't spoken to the athletes which their policy affects, then we're not going to move this forward at all.
"We all could have done a better job in listening to athletes before they stepped forward. It is obvious that we should have been speaking to athletes the entire time. It took this grassroots movement to make it happen. For organisations that have responsibility in anti-doping, if they are not speaking to athletes, if they don't have athletes at the centre of their programmes, then they are doing a disservice to them."
US Sports
As previously mentioned, US professional sports are not signatories to the World Anti-Doping Code. The reasons for this lie in the structure of US professional sports, which negotiate collective bargaining agreements (CBAs) with athlete organisations, which are renegotiated on a regular basis. As a result of these agreements, athletes in US sports have greater rights than those afforded to athletes in sports that are signatories to the Code. 
Although it is funded by the US professional sports, the PCC isn't involved in any such negotiations. "I think that recent history proves that being a signatory to the Code doesn't prove that you run a great anti-doping programme", opines Pearlmutter. "At the same time, I don't think that not being a signatory to the Code means that you don't run a great anti-doping programme.
"One of the reasons that we do the PCC Conference is that there is an opportunity for WADA and the international federations to learn from the American sports leagues. And, there is an opportunity for the American sports leagues to learn from WADA. There are different considerations because of the way in which the leagues are structured – specifically, the need to collectively bargain with athletes that are members of the Leagues.
"This makes the challenges faced by the professional sports Leagues and the Olympic movement different. I think that it is possible to run a great anti-doping programme regardless of whether you are a professional sports League that has collectively bargained such an agreement, or if you are an international federation subject to the Code. I just think that we need to strive to do better. The way to make that happen is to force that uncomfortable dialogue in order to be open enough to learn from each other. We pride ourselves on being a bridge between those things, and being able to force those conversations. I just hope that the right people are listening.
"We do not hide from any issue in anti-doping. We have panels on collective bargaining that will include the professional leagues, player associations, and organisations interested in unionising the Olympic movement. We will also have a conversation about collaboration between different sporting leagues, including amateur leagues, how this can succeed and when it can fail, as well as what needs to happen to keep it moving forward. I think that is 100% unique to our conference. We do not go into our conference with any pre-determined answers."
Doping bans vs. game suspensions
As highlighted at this year's UEFA Anti-Doping Symposium, this can create issues when US players take part in competitions outside of the US. An athlete could be issued with a 20 game ban for a stanozolol anti-doping rule violation (ADRV) in the US, but then arrive in Europe for a competition where they would have received a two or four year sanction for the same ADRV.
The international federation of basketball associations (FIBA) was threatened with US Federal prosecution due to a confidentiality clause within the National Basketball Association's (NBA) CBA with its players, revealed Andreas Zagklis, FIBA's Legal Counsel. FIBA had attempted to ascertain test results from the Montreal Laboratory relating to a player, but had to anonymise the sample and attempt to trace it back to the player involved, he said.
Because bans implemented by sports that fall under the jurisdiction of the Code are based on the calendar year, the potential also exists for team sport federations to wait until the season is over before issuing sanctions to key players, especially if international tournaments are involved. Such potential for corruption doesn't exist in US professional sports, where bans are based on games, rather than the calendar year. 
"I am not familiar with situations where the sanctions have been manipulated, but I will say that by basing it on actual competition, the policy of the professional leagues seems to make sense", argues Pearlmutter. "If a sanction is announced the day after the season ends, during the off-season, then it is theoretically possible that you could never serve a suspension in competition. Telling a player that they are suspended for 80 games in Major League Baseball season – regardless of whether the sanction is issued after the season and they're not going to have that suspension start for another four or five months – seems to make the case for that structure.
"I think that you want there to be consequences for doping. I think that organisations that deal with results management are still figuring out the best way to both protect athletes and deter them from doping. For example, you cannot suspend people for ever for a first violation. How do you balance athlete rights with the optimal punishment to deter athletes from using performance enhancing drugs? It is a debate that will be uncomfortable, for sure." And it is one that will take place during the results management track of the PCC conference.
Can we ever tackle doping in sport?
It is an odd question to ask, but just as politicians talk about 'tackling crime', some within anti-doping talk about 'tackling doping'. The dictionary definition of 'tackling' a problem means to make determined efforts to deal with it, but tends to lead to the inevitable question to which there is a predictable response. Just as we can never fully tackle crime, we will never fully tackle doping.
Pearlmutter agrees. "My opinion is that no, it can never be tackled", he argues. "We will always need the committed people that are entrusted with protecting clean athletes and fighting for clean sport. There will always be some athletes that are committed to gaming the system. I'm just glad that through the PCC, through our members and partnerships, that we have the committed people that will continue to fight for clean sport and clean athletes, as long as it's necessary. It will always be necessary. 
"I've been here for five years. When I started, I didn't think that I would walk into a situation that involved a State sponsored doping problem. I didn't think that the government of a country would be doping their athletes. We constantly have to evolve to adapt to these new situations, and that is why the PCC is convinced that part of that evolution is to be dynamic with our research and testing capabilities. Doping isn't static, so anti-doping cannot be static. Organisations such as the PCC have to exist, so that we can continue to meet the needs of clean athletes and clean sport. 
"We want to get closer to a solution, and we acknowledge that we are not the only people that have good ideas about how to make that happen. I am glad that athletes are now starting to speak out. It is difficult, but so necessary. We are grateful that athletes such as Beckie Scott, Callum Skinner, Ali Jawad are willing to go through the hardship of doing this in order to make sport better not only for themselves, but for the entire athlete community and for the future athletes".
The PCC conference will provide further insight into whether we are going about this the right way. At WADA's recent annual Symposium, delegates heard that 40% to 45% of adverse analytical findings (AAFs or 'positive tests') are inadvertent, or 'non-intentional'. At Tackling Doping in Sport 2013, the Athlete Ombudsman for the US Olympic Committee (USOC), John Ruger, said that between 40% and 60% of US doping cases are inadvertent. 
We already know that just 1.43% of doping tests results in an AAF, and we now know that around half of those AAFs are inadvertent. Yet in 2017, testing increased by 7.1% to 322,050 doping tests. The percentage of anti-doping rule violations (ADRVs) compared to tests carried out is typically less than 1%. The fact that WADA has changed the way in which it reports its testing figures to make it harder to make comparisons between the number of tests and the ADRVs that result from such tests perhaps illustrates that it is aware that testing is not resulting in large numbers of ADRVs.
In 2015, former UK Anti-Doping (UKAD) Chairman David Kenworthy told the BBC that a standard urine test costs £371 and an Athlete Biological Passport (ABP) test costs £439. As such, it could be argued that testing is a massive waste of money. However, supporters of increasing testing argue that it provides a deterrent effect. 
Yet since we know that around half of AAFs are inadvertent, is testing only catching those who didn't intend to dope? Sophisticated dopers would not turn up at an event with prohibited substances in their system. They would dope in the off season, in remote locations that testers cannot get to easily. For example, Lance Armstrong never tested positive, and Russian athletes utilised closed cities.
As the Prohibited List grows ever longer, more complicated and all-encompassing, so will legal and scientific challenges to it. Those who argue that athletes simply need to 'check the list' are probably not aware that as well as the 43 anabolic androgenic steroids that appear in just one category of the List, it also prohibits 'other substances with a similar chemical structure or similar biological effect(s)' to those 43. Athletes cannot check the List for what is prohibited, because of how the List is worded, and checking the List doesn't mean that you can avoid a positive test.
We need science to show us new, innovative ways in which to make anti-doping more responsive, less cumbersome and cheaper. And WADA needs to be open to these new methods, otherwise anti-doping is doing everyone involved a disservice – not least the athletes. By focussing on both analytical and social science, the PCC conference will shed some light on how anti-doping organisations can adapt their testing programmes to deal with the challenges presented by the issues discussed above.