18 April 2016
Manufacturer asks WADA to remove meldonium from Prohibited List
Grindeks, the manufacturer of mildronate, has submitted an open letter to the World Anti-Doping Agency (WADA) asking it to remove meldonium from its Prohibited List. At a press conference today, the Latvian company said that WADA has not provided scientific proof or evidence justifying its inclusion on the 2016 Prohibited List, which came into effect on 1 January.
"There is no reason to include Mildronate in the Prohibited List", said Juris Bundulis, Grindeks Chairman, at the press conference. "The full production cycle distinguishes our product from all other meldonium-containing products. mildronate is not a doping, which enhances athletic performance, it has no actual or potential threat to the health of athletes. In no way, therapeutic use of meldonium contradicts the spirit of sport. The widespread use of mildronate, and its importance for health maintenance and treatment of cardiovascular and neurological diseases serves as a proof of its efficacy and safety."
However, mildronate is not included on the Prohibited List, only its active ingredient (meldonium) is. Also, as explained by Olivier Niggli in this interview with the Sports Integrity Initiative, WADA doesn't have to scientifically prove the ability of a substance to enhance performance in order for it to be included on the Prohibited List. A substance must meet two of three criteria to be included on the List, one of which is proof that a substance enhances – or has the potential to enhance – sport performance.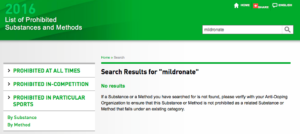 These criteria, explained in Article 4.3.1 of the 2015 World Anti-Doping Code, are as follows:
• Medical or other scientific evidence, pharmacological effect or experience that the substance or method, alone or in combination with other substances or methods, has the potential to enhance or enhances sport performance;
• Medical or other scientific evidence, pharmacological effect or experience that the use of the substance or method represents an actual or potential health risk to the athlete;
• WADA's determination that the use of the substance or method violates the spirit of sport described in the introduction to the Code.
However, although Grindeks argued that mildronate is a drug used to treat medical conditions, it also said that sales had increased since Maria Sharapova announced that she had tested positive for meldonium in March. "Speaking about sales, I will be able to say more precisely after the March data are analyzed, but, of course, interest in the substance has increased", Bundulis told reporters at the company's press conference. "The need for it has increased, we as a rapidly reacting manufacturer are covering it. In that regard, we like everything, we are for the right and substantiated use of medications according to their purposes." Bundulis also told reporters that Grindeks had "managed to persuade WADA not to include [Meldonium] on [its Prohibited list] for a long time".
Fourteen provisional suspensions reportedly lifted…
Meanwhile, it has been reported that six more Russians have had their provisional suspensions lifted. Last week, RUSADA was understood to have lifted provisional suspensions imposed on skeleton racer Pavel Kulikov and bobsledder Nadezhda Sergeeva. The Sports Integrity Initiative also reported that six Georgian wrestlers were understood to have had their provisional suspensions lifted. According to local reports, provisional suspensions imposed on freestyle wrestlers Beka Lomtadze and Avtandil Kentchadze, who took silver and bronze respectively at the European championships, were lifted, as were those applicable to Beka Bujiashvili, Giorgi Meshvildishvili, Mate Sopadze and Davit Modzmanashvili, an Olympic finalist.
The six extra Russians are understood to include Nadezhda Kotlyarova, who had argued that she had stopped taking meldonium before it was banned, and track cyclists. The lifting of a provisional suspension doesn't necessarily mean that an athlete has been cleared of doping, just that they are free to compete whilst their case continues.
Suspensions continue…
Islam Makhachev has tested positive for meldonium in a recent out-of-competition test, said the Ultimate Fighting Championship (UFC) on Friday. 'In accordance with the UFC Anti-Doping Policy, Makhachev has received a provisional suspension, and has been removed from his scheduled bout against Drew Dober from Saturday's card in Tampa, Florida' read a statement. Makhachev is Russian in origin.
Russian swimming star, Yulia Efimova, has failed in her attempt to lift her provisional suspension in time to compete in the Russian national championships, which took place over the weekend. 'Considering the provisional suspension imposed by FINA to swimmer Yulia Efimova (RUS) and the recent WADA recommendations on the use of Meldonium, the FINA Doping Panel decided to maintain the provisional suspension of this athlete, until a hearing of Ms Efimova is held by the FINA Doping Panel', read a statement e-mailed by the Fédération Internationale de Natation (FINA).