21st September 2020
Ghana FA charges two implicated in 2018 documentary
The Ghana Football Association (GFA) has begun charging people implicated in a 2018 documentary exposing match-fixing in African football with abuse of position and bribery. Former Greater Accra RFA Chairman Nii Komiete Doku, who was also a member of the GFA Executive Committee, and football official Kofi Manu have both been charged.
'Both are expected to submit their written Statements of Defence by Thursday, September 24, 2020 at the GFA Secretariat on or before 4:00pm or through dc@ghanafa.org', read a GFA statement. 'They may however choose the option for a personal hearing before the GFA Ethics Committee on a date and time to be communicated. Should they fail to choose any of the options, the Ethics Committee shall proceed to adjudicate the case in their absence. Meanwhile the GFA Prosecutor will send charge sheets to other individuals who were implicated in the investigative documentary.'
In June 2018, the government of Ghana dissolved the GFA after its President, Kwesi Nyantakyi, and four other officials were accused of accepting corrupt payments following a two year investigation by investigative journalist Anas Aremeyaw Anas. The investigation involved over 100 officials alleged to be involved in over 150 corrupt payments.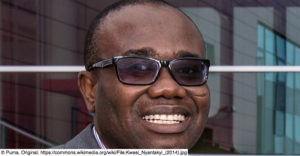 Nyantakyi admitted accepting money from journalists posing as members of the Qatari Royal Family, but denied that the money was for corrupt purposes and argued that he was set up by journalists. He was later found guilty of having violated FIFA's Code of Ethics, and was sanctioned with a lifetime ban which he is still contesting. An appeal against his life ban was heard at the Court of Arbitration for Sport (CAS) on 4 July 2019 (CAS 2018/A/6072), but a verdict has yet to be published. In March this year, he was charged with fraud.
In January 2019, events took a sinister and tragic turn when Ahmed Hussein-Suale Divela, a journalist who had worked on the investigation, was shot dead. Kennedy Agyapong, a politician, had previously made threats against Divela and Anas. In October 2019, Anas confirmed that Ghanaian authorities were still investigating the circumstances of Divela's death.
It is understood that Agyapong was briefly detained by police. After his release, a Ghanaian comedienne alleged that a Presidential soldier had attempted to arrest her and take her to Agyapong's house, and had assaulted her producer. It has also been alleged that he has taken a similar course of action against others.
New Crusading Guide:

* Ripples of Kennedy Agyapong's Court case..Kwabena Asante & Co. beg @anasglobal

* I was killed to kill Nungua Mantse – Cadre reveals #MorningStarr pic.twitter.com/fRTCNaWxVs

— Starr103.5FM (@Starr1035Fm) August 12, 2020
"I had nothing to do with this [Divela's] murder", Agyapong told Forbidden Stories. "But I have no regrets. I feel sad for all the people who were dismissed or died after being called into question by Anas. If I had to do it all over again, I would do exactly the same thing. This man, Anas, uses his power to destroy important people. He extorts money from them, he offers to drop the accusations if you pay him large sums of money."
Anas countered that Agyapong is orchestrating a disinformation campaign against him, just as he had done with Ahmed. It is understood that Agyapong is close to Nyantakyi, who also made death threats against Divela. The Forbidden Stories report also alleges that police ordered witnesses to his murder to stay quiet. In January this year, the International Press Institute (IPI) expressed 'deep concern' over the lack of progress in the investigation of Divela's murder.